Just because we don't get snow down in Louisiana doesn't mean we can't celebrate Christmas in style. Here are some local events to get you in the Christmas spirit!
63rd Annual Downtown Christmas Parade (Baton Rouge)
The Downtown Christmas Parade will roll through the streets of downtown Baton Rouge, Saturday, December 14 starting at 5:30pm. Head down early and grab your spot to see Santa, Children's Grand Marshall Super Why and nearly 80 others spread the magic of the holiday spirit. For more information, visit ChristmasinBR.com.
19th Century Christmas at Rosedown Plantation (St. Francisville)
Take a step back in time and visit this historic plantation, Rosedown Plantation & Gardens. You'll have a chance to view the Main House and Nina's Wing all decked out in historic, early-to-mid 19th century-style Christmas décor, consisting of natural greenery garlands, fruit and nut displays, cypress and cedar wreaths, and potted poinsettia blooms. 19th Century Christmas lasts the entire month of December. For more information, visit visitbatonrouge.com/event/19th-Century-Christmas-at-Rosedown-Plantation/13451.
The Nutcracker: A Tale from the Bayou (Baton Rouge)
Possibly the largest production in the city all year, Baton Rouge Ballet's take on the classic Russian story featured 310 performers last year, including 34 professional and pre-professional dancers. Pyrotechnics, falling snow, lavish costumes and gorgeous backdrops ensure that the production doesn't skimp on spectacle for the packed houses at the Baton Rouge River Center. The show is set for four productions—2 p.m. and 6 p.m. Dec. 21 and 22. Find out more at batonrougeballet.org.
Holiday Skating on the River (Baton Rouge)
It's not often you get a chance to skate on a frozen lake in the South, but at the Baton Rouge River Center, you can try out your ice skating skills. Sessions are 90 minutes and happen various times every day between December 19 and January 5, except Christmas and New Year's Day. Find out more at brrivercenter.com.
Caroling at Jackson Square (New Orleans)
Sponsored by Patio Planters of the Vieux Carré since 1946, Caroling in Jackson Square is a truly moving holiday tradition held by candlelight on the Sunday before Christmas. Jackson Square brims with candle-lit faces and song-lit spirits as high as the spires of the Cathedral. Candles and song sheets provided. The event will take place on December 22 at 7 p.m. For more information, visit https://holiday.neworleansonline.com/?mcm_event=caroling-in-jackson-square.
Revellion Dinners (New Orleans)
Derived from the French word for 'awakening,' Reveillon (REH-vee-on) originally was a meal served after midnight mass on Christmas Eve. Early New Orleans was almost entirely Catholic, and virtually the entire community would participate in these ceremonies. Two a.m. might seem like a strange time to eat a feast, but hungry families would return from the late-night service to gather around the table and eat a delicious meal that had been prepared ahead of time.
A typical early Reveillon menu might closely resemble breakfast, with egg dishes, breads and puddings. However, the dinners also frequently included dishes like turtle soup, oysters and grillades of veal. The Creoles accompanied these dishes with wines, cordials and other alcoholic drinks. The dinners could last for many hours — sometimes until dawn!
Today, Reveillon dinners are served at more conventional dining times rather than in the middle of the night, and have become more common in top-tier restaurants rather than in family homes. This year, forty eight different New Orleans eateries will offer Reveillon dinners during the holiday season. For a complete list of this year's Reveillon dinners, including menus and dates on which the meals will be available, visit http://www.fqfi.org.

When it comes to Mardi Gras floats, costumes, and beads, bigger and flashier is always better. So if you're decorating your home for Fat Tuesday, you'll want to make sure to choose decorations that capture all the drama of Carnival season. Here's a simple DIY project that will add some Mardi Gras flair to your front door!
You will need:
2 rolls of deco mesh in Mardi Gras colors ($5—$15, craft stores)
1 garland (we used a fake pine garland left over from Christmas)
twist ties / pipe cleaners
hammer and nails
ladder
ornaments (optional)
Step 1.
Hang the garland by securing nails into the doorframe. For a brick surface, Tapcon screws can be drilled into the mortar joints (the white lines between bricks).
Step 2.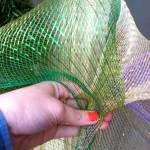 Once your garland is secured around the door frame, it's time to attach the first sheet of deco mesh. Unwrap the deco mesh and pinch the end together, securing with a twist tie.
Step 3.
Secure the mesh to the garland using a twist tie, or if your garland has wire branches (like ours), by wrapping the garland around the mesh.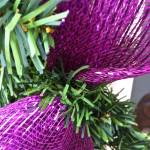 Step 4. 
Continue attaching the mesh to the garland, placing a twist tie or branch every 7 or 8 inches. This will create a "bubble" in the deco mesh. Don't worry — the bubbles don't have to look perfectly round, and it actually looks better if they don't! Note: Make sure you're not wrapping the mesh around the garland, but rather securing it only on the front side. When you're finished, your garland should look like this: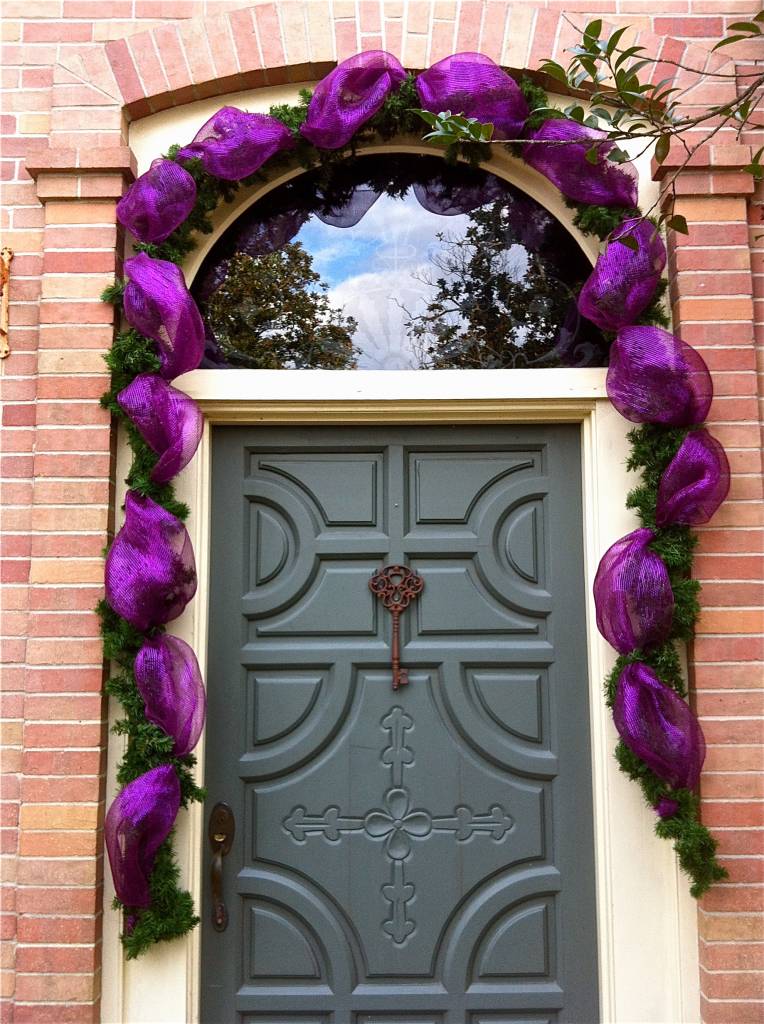 Step 5.
Once you've finished attaching the first sheet of mesh, it's time to add the second. We tried to attach ours so that the "bubbles" alternated in color. Finally, add ornaments by hanging them onto the garland and add a wreath for a finishing touch! (We made our wreath by using two sheets of deco mesh and using the same method used for the door frame).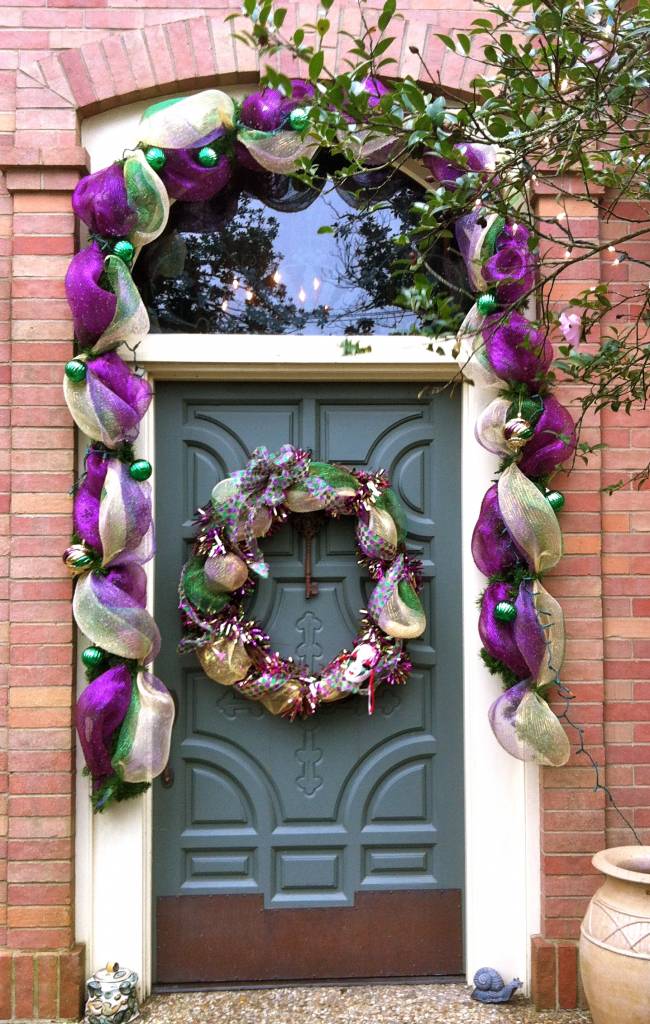 Voila! Now that your door is fully decorated, it's time to invite some friends over and laissez les bon temps rouler!

Our beautiful Christmas décor. Each year, Janice sets up a 10-foot Christmas tree in the main room that is gorgeously decorated, and the stockings are always hung by the chimney with care.
Convenient location. We're located 3.5 miles from the Mall of Louisiana, where you can get all of your shopping done in one place!
Feel at home away from home. If you're visiting relatives in Baton Rouge, why not stay in a place where you can feel right at home?
Unwind from holiday stress. The holidays are stressful. After spending all that time with your in-laws and rushing around crowded malls, you deserve a break. Unwind and treat yourself with a night at The Stockade!
Enjoy our Kris Kringle Holiday Package! Enjoy a special beverage upon arrival, and then snuggle up in your room with a mini basket of Miss Ida's homemade pralines and fudge. You'll also receive a holiday stocking filled with authentic Louisiana treats, and assorted gift bags and tissue paper to help with holiday wrapping. The package includes a two-night stay, so you will have plenty of time for shopping and wrapping all your goodies.
Don't wait — book your room today!
Contact Us
The Stockade Bed & Breakfast
8860 Highland Road
Baton Rouge, LA 70808
Toll Free: 888-900-5430
Local: 225-769-7358
stay@thestockade.com