Our Blog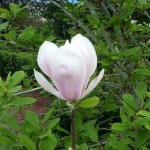 South Louisiana, like much of the United States, experienced more than its share of unusually cold weather this winter.  Phrases like "polar vortex" were being used by weather forecasters – a term people in the south are definitely not familiar with.  All we know is that it was COLD – really COLD.  Snow, sleet and frozen fountains were a little too common in the South this past winter.
South Louisiana is not exactly a tropical area, but we do have somewhat fragile plants that grow here which don't tolerate very cold or frozen temperatures.  Try as we might, it was difficult for us to cover and protect many of our plants, and now that Spring is officially here, we are all taking stock of what's left and replacing plants that didn't make it.
At The Stockade, we are happy to say that our plants are finally coming to life, albeit a little late.  And we couldn't be happier!  Take a walk with us around The Stockade gardens and see what plants and flowers are springing to life!
---
By Elizabeth Clausen
Local artist Sheryl Southwick has been creating art ever since she was five years old. An LSU alum, she has studied at the Corcoran School of Art in Washington D.C., spent a year living and painting in Paris, and has had her works displayed at various galleries and cafes. Her latest work of interactive art, "If The Road Could Talk," will be showcased in the Project 100 exhibit at Frameworks Gallery, which opens Friday, Sept. 13.
When did you decide to become an artist?
I grew up in a very creative household. My mom sewed and cooked, and my dad was always tearing walls down and putting walls up. So I grew up in a very fluid household where everything was adaptable and flexible, and my parents knew how to do stuff.
And they taught us whatever they knew. I've been sewing since I was five and cooking since I was five. This piece that I'm working on now is a combination of those kinds of handiworks, but I'm also using a painter's stretcher bar. I'm doing a different kind of 'canvas' made of wires. It's a loom, really.
How long have you been making art?
When I was fourteen I started drawing everybody and everything all around me, and I still have stacks and stacks of sketchbooks that I can look back on. In high school, I learned how to paint. I had the best painting teacher ever. Her name was Judy Dazzio, and now she lives in Florida and has a big art school there. She taught me color theory. I guess I had a natural affinity for it, because I picked up on it quickly and I've remembered everything she ever taught me.
What do you like about teaching art?
I'm very rewarded when I see the light bulbs go off in people's heads and they get something, and I also just love to see what they do.
I love children's art. I love to watch them create because often children are less inhibited than adults, and they just go for it, which I try to do. Which is part of the reason that I'm making this piece, "If The Road Could Talk," because I've never seen anything like it. Somebody gave me all these materials and I thought, I just want to make something that's in my head.
Oh, and another thing. When I used to teach children in the woods in Maryland, I would do the coolest projects with kids all the time. And I thought, you know, those projects were so fun and different. I mean, I just want to start doing them for myself. And so that's kind of what inspired this too. I thought, why do I have to paint a picture or do a mosaic? Those are wonderful, but I want to do something different.
Is "If The Road Could Talk" your first loom that you've ever made?
Well, I used to make little stick-weaving projects when I worked with children. You take two sticks and place them horizontally about six inches apart. And then you take either twine or embroidery thread and you just make a warp, hang it in a tree, and weave it. But that was a long time ago. And this is along those lines.
Why did you choose to incorporate the wires with natural elements like leaves? Are you trying to say something about technology?
I just put the leaf in there, because I kept the leaves for printmaking and I put it in there, because I kept the leaves for printmaking and I put it in there. When I put the fish in, I started thinking about how humans are adding their trash to oceans and harming wildlife.
It's interesting how this project is evolving. It's fascinating, because I was just starting to make something out of leftover stuff and now it's evolving this way.
It kind of reminds me of a bird's nest, and the way birds will take things out of their environment and weave it together in this really interesting way.
Yeah! They'll take anything, like wire, and it becomes part of nature — even if it's a manmade object — because it's being used by this animal.
When did you start doing three-dimensional works? Is that a recent development?
It's pretty recent. I started doing mosaics up in Maryland probably in 2003 maybe, because I had this beautiful bowl that broke and I wanted to do something with it. And I had gone to see a mosaic gallery in New York City, and it was so captivating to me. They had mosaic picture frames, furniture, mirrors, walls, and the surfaces just interested me.
My paintings have always had sort of broken-up surfaces. I was influenced by the post-impressionist painters a lot. My favorite painter is Bonnard. And he came out of the impressionists. I like surface breakup, because I think it makes my eyes dance. It's not static at all.
Do you have certain themes in your artwork that you return to often?
I do. There's one in particular that comes to mind — I love the river. I'm in love with the Mississippi River. So I like to paint waterways.
What is it about the river that you feel drawn to?
Well, I grew up here. And when I was a kid, I'd go to the levee and pet the cows at the LSU farms. Or maybe it's because I'm a Pisces, if you believe in astrological stuff [laughs].
So you grew up in Baton Rouge?
I did. I was born on a bayou.
Like literally on the bayou?
Well, I was born in a hospital. But I mean…
How did you end up in Maryland?
I went up to Maryland in 1976, during the bicentennial of the U.S. I went to stay with my cousin and sort of acted as a nanny to her two little boys. And I got married up in Maryland. I ended up in Maryland because I wanted to go to a big city and see what it was like. I wanted to look at art museums, because Baton Rouge had such a limited collection. And so I wanted to live in a city. So I did. I lived in D.C., and I met my husband up there. Eventually we went to Paris for one year.
So how did you end up back here?
After my husband died, my son who was in high school didn't want to come back here. I told him after he went to college I was going to come back here. So I did. I wanted to be near my family. I have five siblings. My sister, who's also an artist, lives here. She said you can come live in my house, because my daughters are grown and we have all this room. And so I did. I came back three years ago.
Earlier, you said when you were growing up in Baton Rouge, there wasn't much of an art scene. How do you think that's changed? Has it changed? How would you describe the art scene in Baton Rouge right now compared to how it used to be?
There's so much going on now. There are a whole lot of art classes going on. There's a lot of art shows … There's a lot more energy.
The roots, music has come out of the closet, so to speak. Art is very vital now. I think the music's always been there but I think the visual arts have really picked up. I also think that Louisiana has a lot of stuff going on that nobody else has going on, and it always has. It's unique. And I missed that so much when I was in Maryland. There's such a mix of people and ethnic backgrounds here. I think it's great.
Would you say that the South has influenced your artwork? Has Louisiana influenced your artwork?
I'm sure every artist is influenced by who they are and where they're from, unless they're not authentic. But we have so many influences. Because we go to school and learn stuff. I think maybe it is. Maybe the Mississippi River itself influences me, but also having lived away and seen a lot of different kinds of art is enabling me to make this piece that I'm working on right now. Because it's kind of out of the box, in a way. Maybe it's not. It is in a frame, though.
By the time this is finished, it will be interactive, where somebody will be able to come up and touch it and make sound happen.
Why is that important to you, to make it interactive?
Well, it's my first interactive piece. I think it's fun. Because you're not supposed to touch art. And often, we want to touch art because of the tactile appearance. You want to go touch a mosaic, because you want to feel the rocks and see if it's as rough as it looks or as smooth as it looks. You want to feel the texture.
You're so right. That's why they have to post signs saying, "Please don't touch."
Plus it's fun. I mean, art is so serious. Museums can be so serious. But there's so many fun things in life. And I don't know. It's just in my head; I've got to make it happen.
And I remember my brothers used to get these kits when they were little boys. They got the electronic kits where you could touch wires together and make lights come on, stuff like that. And I want to learn that. I like to understand stuff. I don't like to be totally in the dark.
What do you want other people to know about your artwork?
I just want them to look at it and bring themselves to it. I think if you look at something long enough you might know enough about it for yourself. Sometimes if I learn too much about an artist, I might not like their art anymore, since I might not like them anymore. I liked Gauguin a lot, but when I read about what he did, you know, he left his whole family of five kids, I'm thinking, 'That is really awful.' Then I had a different view of his art. And people say that about Picasso, but he was such an innovator. He just invented himself over and over and over again, and he didn't get bored with himself.
I think we get bored with ourselves when we make one kind of art too long, at least I do. I don't want to be producing it like an assembly line without inventing new stuff. And this is just my break from painting. I love painting, I love color, and I like to keep moving forward, like Miles Davis said. You have to keep moving forward.
For more information on Sheryl Southwick, check out her website at www.sherylsouthwick.com
---
The Stockade Bed and Breakfast, which is certified as a Backyard Wildlife Habitat by the National Wildlife Federation, is committed to sustainable practices and protecting the environment. That's why we are a big believer in composting — a simple and effective way to be more eco-friendly!
According to the Environmental Protection Agency, the largest contributor to landfills in America is food waste; in 2009 alone, 34 million tons of food waste was produced. Once food waste is dumped in a landfill, it is unable to be reused for the environment.
There are numerous benefits of composting. Not only does composting prevent food waste from ending up in a landfill, but it also adds nutrients to soil, encourages healthy plant roots, saves water by helping the soil to retain moisture, reduces soil erosion, balances pH, and decreases the need for petrochemical fertilizers.
Here are some things that you can chop and use for compost. For best results, use a mixture of browns and greens to ensure a good carbon-to-nitrogen ratio:
"GREENS"
coffee grounds and filters
tea bags
citrus rinds
fruit and vegetables
ground eggshells
"BROWNS"
grass
pine needles
shredded cardboard or newspaper
wood
Source: http://anrcatalog.ucdavis.edu/pdf/8367.pdf
---
You've probably heard Louisiana referred to as "Sportsman's Paradise," since our state is teeming with wildlife and provides the perfect retreat for birdwatchers, fishermen, and outdoorsmen. But did you know that the National Wildlife Federation has recognized The Stockade Bed and Breakfast as a certified Backyard Wildlife Habitat site?
According to the Backyard Wildlife Habitat Program, The Stockade has been certified in the National Wildlife Federation's worldwide network of "mini-refuges where, because of the owner's conscientious planning, landscaping and sustainable gardening, wildlife may find quality habitat — food, water, cover, and places to raise their young."
Although most guests at The Stockade are only able to catch a glimpse of our wildlife, there are many species that live on our eleven-acre property. I've spotted foxes, opossums, bats, snakes, raccoons, all kinds of birds (including barred owls, barn owls, and screech owls) and deer sign.
In addition to the wildlife, the property is also home to several native Louisiana plant species, including cypress trees, oak trees, pecan trees, crape-myrtles, camellias, and magnolias.
So if you went on down to the Audubon Zoo and they all asked for you, chances are you'd feel right at home staying among the amazing wildlife at The Stockade Bed and Breakfast!
---