Our Blog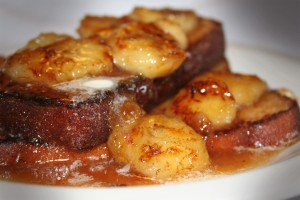 I started making this recipe when the Ice Cream Banana plant which one of my guests from Florida brought me produced a bumper crop.  Everybody loves it!
1 loaf of French Bread sliced
2 eggs, beaten
2 cups half and half
1 oz. Praline Liquor
Butter
Pecans
Brown sugar
Sliced banana
Blueberries (optional)
Powdered sugar (optional)
Whipped cream (optional)
Mix together the beaten eggs, half and half, and Praline liquor.
Soak bread in mixture and sauté in butter on both sides until brown.
In separate sauce pan, sauté in butter,  pecans, Praline liquor, and brown sugar until it makes a syrup. Add banana slices and cook till soft.
Pour syrup over French toast and garnish with blueberries, powdered sugar and whipped cream.
---
2 eggs per person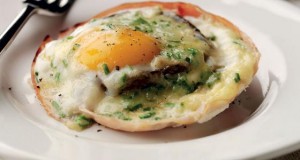 1 tablespoon grated cheese 1/8 teaspoon Worcestershire sauce Dash of Cajun Seasoning Paprika Parsley flakes ½ slice of cooked crumbled bacon per egg
Spray small muffin tin with non-stick spray.  Scramble eggs slightly and put in muffin tin.  Sprinkle cooked crumbled bacon over egg.  Add Worcestershire sauce and Cajun seasoning.  Top with grated cheese, and then sprinkle lightly with paprika and parsley flakes.
Bake at 350 degrees for about 15 minutes, or until center is not runny.
Serve hot with Hollandaise sauce on top, sprinkled with paprika or parsley for garnishing.
---
Football season is upon us, which means that it's time for tailgating! Here are some things to keep in mind before you head out to your next Tiger Stadium tailgate.
1. Dress the part
There are only two sartorial rules of tailgate fashion at LSU: 1. Wear purple. 2. Wear gold. Anyone who shows up to the game wearing the opposing team's colors will find themselves on the receiving end of the dreaded "Tiger Bait" chant, and nobody enjoys that.
2. Stock up on beverages.
A Southern tailgate wouldn't be complete without a few cold ones. Luckily, in addition to mouthwatering cuisine, Louisiana also has a lot to offer in terms of locally-brewed beers. Abita Brewing Company, Parish Brewing Company and Bayou Teche Brewing all make excellent local brews that allow you to support Louisiana business while you cheer on the Tigers.
3. Cook a mean brisket.
A crucial element of a great tailgate is great food. Here's a recipe for brisket from our good friend Chef Kenny that will leave your guests in awe:
Ingredients:
2 1/2 pounds beef brisket
½ c. olive oil
¼ c. balsamic vinegar
¼ c. honey
2 c. red wine
1 onion (cut up
Tony Chachere's seasoning
Garlic powder
Directions:
1. Preheat oven to 325 degrees F (165 degrees C).
2. In a roasting pan, place brisket fat side up. Rub seasoning all over brisket.
In a small bowl, combine rest of ingredients and pour over brisket.
3. Cover with foil, and bake in preheated oven for 3 to 4 hours. Uncover the brisket during the last hour of cooking.
[NB: You can also put the cooked brisket on the BBQ pit for a little while to crisp the outside and use your favorite BBQ sauce. Many people don't realize that the trick to cooking beef brisket and beef ribs is to cook them in the oven first, then transfer them to the pit for a short time; the oven cooking is what tenderizes the meat, and the pit puts the char on the meat.]
Now what are you waiting for? GEAUX out and enjoy an awesome tailgate party!
---
In South Louisiana, we call this "Midnight Gumbo." This name has a double meaning — it is the midnight color of the roux, and it's the time of night the gumbo will be finished if you're cooking with friends and having a ball! I do suggest recruiting some help for this dish, as it is a labor of love, but it's well worth the effort when you savor the flavor. When my dear friend Chef Kenny was asked for the secret ingredients for this dish, he replied, "My heart and soul!" I usually double this recipe and put some in the freezer.
1 chicken
1 pound Andouille sausage
1 cup oil
1 ½ cups flour
2 cups diced onions
2 cups diced celery
1 cup diced bell peppers
¼ cup minced garlic
3 quarts chicken stock
1 can Rotel tomatoes
1 bay leaf
sprig of thyme
1 tablespoon chopped basil salt and cracked pepper, to taste
2 cups sliced green onions
2 pounds sliced okra
½ cup chopped parsley
4 cups cooked white rice
Prep Time: Approximately 1 hour
Cooking Time: Approximately 1 hour
Directions: Wash chicken and season with salt and pepper. Boil in stock pot until done. Remove chicken, cool, and de-bone. Save stock. Cut chicken into bite-sized pieces. Cut the Andouille into ½ inch slices and set aside. Begin roux with oil and flour. Carefully darken to dark brown without burning. Add onion, celery, bell pepper, and garlic to soften. Add stock, Rotel tomatoes, and spices. Simmer for approximately one hour. Sauté okra in small amount of oil to soften. Add to the stock pot. Cook sausage in skillet or oven and add to stock. Cook another ½ hour or so. Lastly, add chicken, green onions, and parsley. Simmer until chicken is warm. Serve gumbo over rice with some fresh cut green onions and a little Filé for garnish.
Note: Filé is ground sassafras used to thicken and flavor Creole dishes.
---
M

any bed and breakfast innkeepers are constantly looking for breakfast recipes that will "wow" their guests. After all, "breakfast" is half the name of a bed and breakfast! Here is a recipe that will make your guests feel like royalty.
The Caldwell House in Abbeville, Louisiana is fortunate to have on its staff cookbook author Gretchen Frith. This is one of the recipes in Gretchen's cookbook, The "Bleep" My Family Eats, which contains not only breakfasts but other foods, as well. Gretchen has kindly shared her recipe with us:
Ingredients:
3 1/4 cups flour
1 3/4 cups sugar
1/2 teaspoon cinnamon
1 teaspoon salt (optional)
 1 teaspoon baking soda
3 large eggs-slightly beaten
1 cup plus 2 tablespoons vegetable oil
20 oz. frozen sliced strawberries with sugar, thawed (including juice)
Preheat oven to 350 degrees. Mix first 5 ingredients in a large bowl. In a medium bowl, mix eggs, oil and strawberries. Add the liquid ingredients to the dry ingredients and mix well by hand. Pour into two greased 9x5x3 inch loaf pans. Bake for 50 -55 minutes or until toothpick inserted in the middle come out clean. Cool. Remove bread from pans. Slice and serve.
Enjoy!
---