About Breakfast
A traditional Southern breakfast featuring Louisiana-inspired recipes is included in your bed and breakfast room rate. A rotating-menu buffet is set out daily – guests may not order particular items off of a menu. Upon request, with advance notice, special dietary needs are accommodated (please inform us of special needs when you make your reservation).
Breakfast is served from 7:00 a.m. – 9:00 a.m. for our travelers during the week. On the weekend, breakfast is served at 9:00 a.m. It is helpful for the cook to know your breakfast time so that the food is hot and fresh.
Our breakfast room may be reached by persons in a wheelchair and is just down the hall from the Escape Room which is handicapped accessible and ADA compliant. Please advise us at the time you make your reservations if you have special needs.
Breakfast is served in the lovely breakfast room of antiques featuring John Gould hummingbird prints, botanical prints from the Temple of Flora collection by Robert John Thornton and antique collectible menus. Though Breakfast is the only meal served daily, the Dining Room can be reserved for luncheons, meetings and private dinner parties.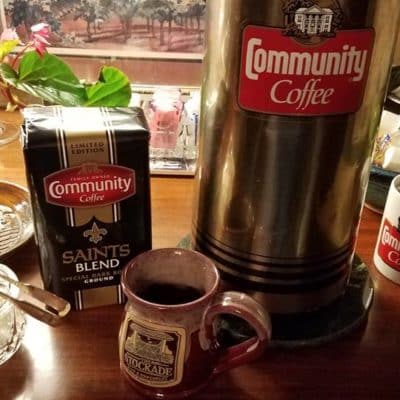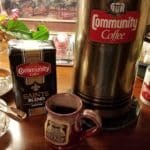 Breakfast Includes:
Community Coffee (we exclusively serve Louisiana's family-owned Community Coffee headquartered in Baton Rouge).
Breakfasts May Include:
Tea and juice, one of several egg dishes (casseroles, quiches, frittatas), garlic-cheese grits or hash browns, country smoked ham, hickory smoked bacon or sausage, French toast, Belgian waffles, blueberry/banana pancakes, croissants, Southern biscuits and gravy, fresh fruit, and assorted homemade muffins.
Our Signature Dishes:
Eye-Opener Egg Soufflé Casserole
Crème Brûlée Pain Perdu with fresh berry syrup and candied pecans
Grits and Grillades — New Orleans' Style
Mizz Tracey's cornbread waffles with sausage gravy
JD's home-grown cantaloupe and fresh Louisiana strawberries n' cream (when in season)
Homemade granola cereal with fresh fruit
Grits and Grillades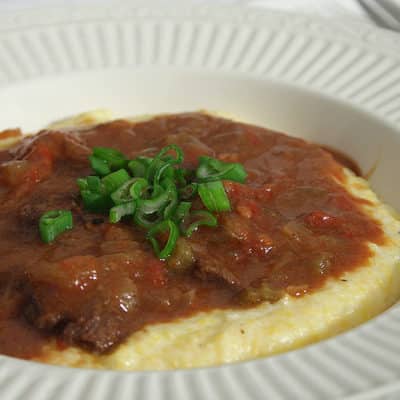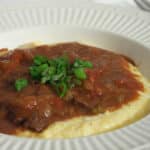 Like many of the recipes in South Louisiana, "grits and grillades" was introduced by the Creole people. The French and Spanish settlers brought their own styles of cooking and blended them with local crops to create dishes as hot and sultry as the Louisiana nights. "Grillades" (pronounced gree-yahds) is a dish consisting of rich, dark gravy with braised meat served over creamy, garlic cheese grits: the Creoles served it for midday brunch or late night suppers after their elaborate balls. The grillades are meant to cook for a long time until the meat is so tender that you can cut it with a fork. Bon appetit, and as we say in South Louisiana, "laissez les bon temps rouler" (let the good times roll)!