Itineraries – Start in Baton Rouge and enjoy…
As the Capital City of Louisiana, Baton Rouge sits in the center of both East Baton Rouge Parish and Louisiana's Plantation Country on Mississippi River's eastern side, making it easy to explore Cajun Country, Greater New Orleans and even the state's Sportsman's Paradise regions through day trips out of the city.
A. History and Culture
Learn about the state's political history at the Old State Capitol downtown to learn all about the legendary Huey P. Long. You won't want to miss their exhibit on Sarah Morgan, the Capitol's ghost-in-residence! While you're downtown, head to the levees and check out the Mighty Mississippi River before heading over to the Old Governor's Mansion.
You'll also want to check out the Louisiana State Museum on 4th Street to learn about the rich history and culture of The Pelican State. Or, you could visit the Rural Life Museum to catch a glimpse of the folk architecture, tools, utensils and farming equipment of the diverse cultures that settled and farmed preindustrial Louisiana.
B. Cajun Cuisine
Enjoy Janice's delicious hot breakfast at The Stockade Bed and Breakfast, along with a piping hot mug of Louisiana's own Community Coffee. For mid-morning mimosas, head down Highland Road to The Chimes, which also offers a great selection of beers from around the world. While you're by The Chimes, hop on over to LSU's gorgeous campus and go for a walk under the stately oaks.
Parrain's Seafood is a great place to grab lunch. It offers Cajun and Creole dishes in Baton Rouge's diverse mid-city district. Parrain's exclusively serves Gulf Coast seafood and boasts an appealing hometown atmosphere. After lunch, explore mid-city's wide selection of shops, including the eclectic locally-owned Cottonwood Books or the unique art and architectural salvage shop Circa 1857.
For dinner, enjoy Creole specialties at the upscale Mansurs on the Boulevard, which offers fantastic service and is known for its divine Cream of Brie and Crabmeat Soup. Another great dinner option is Juban's, home of the beautiful (and delicious) Hallelujah Crab.
C. Wildlife and Outdoors
For the nature lover, a trip through Baton Rouge wouldn't be complete without stopping at Bluebonnet Swamp Nature Center, a 103-acre facility that features live animal exhibits, artifact and mineral displays, and a wide selection of walking trails. Birders can view seasonal and year-round species.
Next, head to LSU's campus to pay a visit to Mike the Tiger, a live Bengal tiger who serves as the official mascot for Louisiana's flagship university. Louisiana State University is one of only two universities in America to feature a live tiger mascot. And Mike's $3 million, 15,000 square-foot habitat ranks among the largest and best tiger habitats in the country!
---
New Orleans
On your way from Baton Rouge to New Orleans, you won't want to miss the one-of-a-kind Laura Plantation, a Creole sugar plantation built in 1805. We also recommend a stop at Oak Alley Plantation which is just a few miles from Laura Plantation. You definitely should not miss Houmas House and its gardens.
In New Orleans, start with breakfast (or brunch) at Camelia Grill on Carrollton Avenue, a small diner famous for its giant omelets and entertaining counter service. A second location of Camelia Grill is located in the French Quarter, where the food is equally delicious and the experience a memorable one you won't forget.
Animal lovers won't want to miss the Audubon Zoo and its one-of-a-kind swamp exhibit, which features rare blue-eyed white alligators. Or you could visit the beautiful botanical gardens at City Park.
For lunch, try a mouthwatering muffaletta in town at Central Grocery or Franks Italian Restaurant, or stop for a delicious Po' Boy at the famous Parkway Bakery, which has even been visited by President Obama!
Looking for great shopping? Magazine Street offers six miles of specialty boutiques, antiques, galleries, and more so that you can shop 'til you drop!
Art lovers will enjoy the Frenchmen Art Market, open on Thursday through Sunday in the evenings. It features handmade goods from the region's finest artists and craftspeople. Frenchmen Street is also the perfect spot to hear live music; there are several fantastic jazz clubs to choose from! The Spotted Cat features local musicians du jour and the ever popular Snug Harbor is true to its name with a cozy intimate venue. Street performers and musicians add to the revelry.
---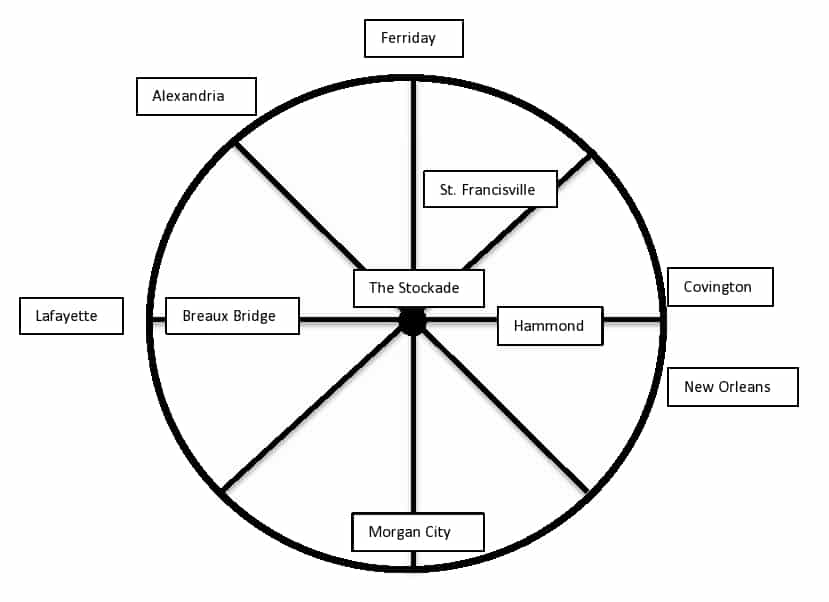 Are you coming to Baton Rouge and are not familiar with the city and what it has to offer? Let us help with our Hub and Spoke Tour itineraries.
The Stockade Bed and Breakfast is a perfect "Hub" for several one-to-two-hour "Spoke" day-trips, after which you can return to the inn for a restful evening before you set out the next day for another adventure. Our "wagon wheel" image shows the approximate town locations from our Inn.
LAFAYETTE, LA. EXCURSION —64 miles one-way, approximately
No trip to Louisiana is complete without a visit to Cajun Country! Learn about Cajun Culture and enjoy foods native to this area. Some restaurants feature live Cajun and Zydeo music and dancing. Laissez les bons temps rouler!
CENTRAL LOUISIANA ROAD TRIP –260 miles round-trip, approximately
This route will take you to plantations and other sites in the town of Alexandria, Louisiana.
FERRIDAY / FROGMORE COTTON PLANTATION AND GINS – 210 miles round-trip, approximately
Visit Frogmore Cotton Plantation in Ferriday, Louisiana, grab lunch at a nearby restaurant, and return to The Stockade Bed and Breakfast.
WHITNEY PLANTATION EXCURSION – 110 miles round-trip, approximately
Visit Whitney Plantation on Historic River Road near Edgard, Louisiana, eat lunch at a restaurant in Vacherie, and return to The Stockade Bed and Breakfast.
ST. FRANCISVILLE DAY TRIP – 32 miles one-way
Visit historic St. Francisville, see antebellum homes, shop in antique shops, and dine in quaint restaurants and cafes.
NEW ORLEANS FRENCH QUARTER – 162 miles round-trip, approximately
---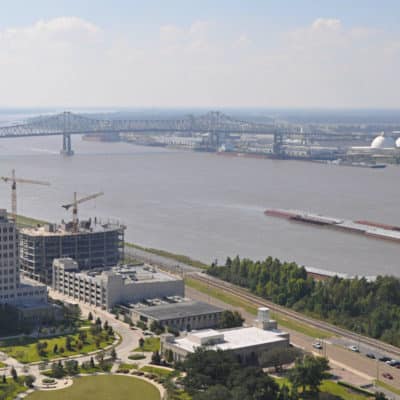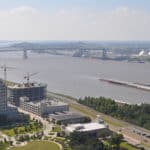 Car Crusin' The Mighty Mississippi River:
Take a week, take a month, or take a season to travel from New Orleans LA to Memphis TN, exploring the cities and sights along the way!
Start by exploring New Orleans (where you might choose to stay at Grand Victorian Bed and Breakfast ); the French Quarter, Magazine Street, City Park, Audubon Park and Zoo and so much more are waiting for you.
When you leave New Orleans, meander down River Road or I-10 to Baton Rouge. Once here, enjoy a discounted stay at the Stockade Bed and Breakfast while you take in the sights and experiences of our city.
From Baton Rouge, continue on Highway 61 to St. Francisville, LA (home of The Barrow Inn and ShadeTree Inn) to take in Antebellum home tours, nature destinations and unique shopping.
Continue to Natchez, MS and its picturesque bluffs and plantation tours. Devereaux Shields House Bed and Breakfast welcomes you to stay with them.
Vicksburg, MS is your next stop where you can take in Civil War History, shops, museums and great restaurants before you continue to Helena, AK to explore its shops and music venues.
The last stop on the tour is Memphis, TN and the roots of Rock and Roll Music. Show yourself around Graceland Mansion, the Beale Street Historic District, the National Civil Rights Museum and the Peabody Hotel, just to name a few. From here, you can continue to follow the Mississippi River north, or choose another destination that suits you.
(Photo courtesy of Louisiana Department of Culture, Recreation and Tourism)