Louisiana's ethnic roots reach back to French and Spanish traditions, seasoned with African, Anglo-Scots-Irish, Caribbean, and Native American heritage. The various influences add a little spice to each area of the state. One of the most celebrated regions is Cajun country. And the Louisiana Bed and Breakfast Association has many member properties located in the area.
Travel we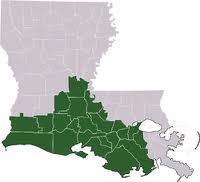 st from New Orleans for approximately 120 miles and you arrive in the center of French Louisiana, also called Acadiana, or Cajun country.  Lafayette sits at its core, where I-10 intersects with I-49, and Cajun culture meets the 21stCentury. Stop at Dwyer's Café for some of the best gumbo in the area, and at the Blue Dog Café for the étouffée and a look at works by artist George Rodrigue.
Throughout the region – at cafes, gas stations, grocery stores, and restaurants – you'll see signs advertising fresh boudin, a sausage traditionally made with pork, liver, long grain rice, and spices. The Southwest Louisiana Convention and Visitors Bureau in Lake Charles offers a  "Boudin Trail" guide that lists places to find the delicacy. Among the stops are Abe's Grocery in Lake Charles, Brown's Grocery in Hackberry, Comeaux's Cajun Gold in DeQuincy, Poche's Market and Restaurant in Breaux Bridge, Rabideaux's Sausage Kitchen in Iowa, and Richard's Boudin and Seafood Market in Sulphur.
You need only to ask your Innkeeper with help on where to go and what to do in Cajun country. Let your Bed and Breakfast lodging hosts be your guides.
Order Like a Local
If you want to get local treatment, you need to speak the language. Louisiana has a language of its own, derived from the French speaking populations that settled here hundreds of years ago.
Practice these few colloquial words and you'll be treated like a pro.
Ètouffée (ay-too-FAY): Spicy Cajun stew traditionally made with crawfish and vege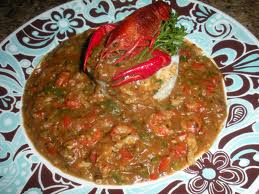 tables, served over rice.
Boudin (Boo-dan): Sausage usually made from a blend of pork, rice, onion, parsley, and green onion.
Crawfish (Craw-fish): Small freshwater relative of the lobster.
Jambalaya (Jum-ba-li-ya): Combination of cooked meats (seafood, wild game, etc.) cooked in a broth with rice and spices. The Creole version adds tomatos, the Cajun version is usually prepared without them.
Maque Choux (Mock-shoe): Creamy stewed corn dish made with corn, onion, celery, green pepper, tomato, and spices.
Muffuletta (Moof-a-lotta): sandwich stuffed with ham, salami, cheese, and a mixture of chopped olives, garlic, onions, celery, and olive oil.
Bon Appetit!