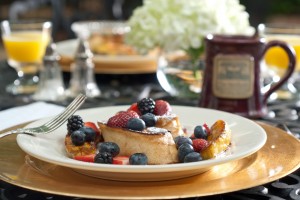 When you travel, how important is breakfast to you?  If you enjoy unique, creative and delicious breakfast creations, you may want to consider staying at a bed and breakfast.  In fact, breakfast may be one of the main reasons you choose a bed and breakfast instead of a hotel.
A favorite phrase in the Bed and Breakfast industry is that "Breakfast" is half the name.  In many B&Bs, your breakfast may be the most memorable part of your stay, not only for the food but the intimate and leisurely experience as well. Guests sometimes meet other guests and oftentimes breakfasts in a B&B can last for an hour or more as guests meet each other, talk about the area, their experiences and where they are from.
If breakfast is important to you, it is advised that you ask the innkeeper prior to your stay what type of breakfast will be served.  Just as styles of B&Bs vary, so do breakfast offerings.  It can be as simple as a continental breakfast of coffee, tea and pastries brought to your room or served in a country-style dining room.  Or it can be as elegant as menu items prepared by a chef in an beautiful dining room setting.  A delicious breakfast may be the one thing you remember most about a particular inn.
Most innkeepers enjoy using foods indigenous to their area in the preparation of the menu.  Sometimes the ingredients are grown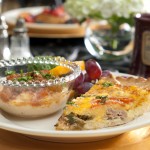 on the property itself – herbs, fresh vegetables, etc.  Oftentimes, when serving, the chef or cook will come out and tell you what you are eating and what ingredients were used to make the dish. When's the last time you went to a hotel and received that type of personal service?
When comparing prices of hotels versus bed and breakfasts, remember that usually the breakfast is included in the room rental of a B&B, which is not always the case in hotels.  Innkeepers consider the breakfast experience an important part of your stay and put a lot of thought and preparation into the foods that will be served.
The Stockade serves a traditional Southern breakfast.  Guests wake up to the aroma of Community Coffee, Louisiana's brand.  The menu varies daily with delicacies such as garlic cheese grits, egg soufflé, French omelets, hickory-smoked bacon, country ham, biscuits, croissants, muffins, French toast and fresh fruit. Upon request, special dietary needs are accommodated.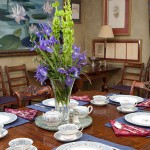 The Stockade breakfast room contains antiques, with John Gould hummingbird prints, botanical prints from the Temple of Flora collection by Robert John Thornton and antique collectible menus.
Hungry yet?  Bon appetit, and as we say in South Louisiana, "laissez les bon temps rouler" (let the good times roll)!