Oo-ee, oo-ee baby, Won't ya' let me take you on a LAND cruise? Remember Frankie Ford's hit song "Sea Cruise" from the 1950's? Well, we've put our special twist which we call CAR CRUIZIN' on this famous oldie. Here's a way to cruise the Mississippi River from New Orleans to Memphis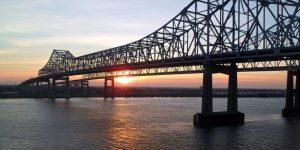 (by land) and never set foot in a boat. This route will take you to majestic plantations, Civil War sites and leave you free to explore each cities' food, music, culture and history along the way.
Begin in New Orleans. The Moon Walk promenade along the Mississippi River offers a spectacular view of the Mighty Mississippi. Stay in the Grand Victorian Bed and Breakfast or Avenue Inn Bed and Breakfast while you explore the city. Both of these bed and breakfasts are on the St. Charles Avenue Streetcar line and offer an easy way to navigate the city.
When you have thoroughly explored all that New Orleans has to offer (frankly, that's impossible), travel along the River Road which will offer views of the Mississippi all along the way. Choose either side of the river to view and tour splendid plantations. Or, if you're pressed for time, you can take I-10 West to Baton Rouge, the capitol city of Louisiana. This view of the Mississippi in Baton
Rouge is just as spectacular as in New Orleans. The USS Kidd, a 2,050 ton Fletcher-class destroyer, is permanently docked on the river close to both state capitals, old and new. Downtown shopping, historical venues and dining are plentiful in the downtown area. Stay at The Stockade Bed and Breakfast for 2 nights and receive a 10% discount per room per night. Hike the nature trail at the Bluebonnet Swamp which is just 2 miles from The Stockade. Book now and select one of the balcony rooms at The Stockade overlooking the bluffs.
Next, take US Highway 61 to St. Francisville, Louisiana. Established in 1809, this town offers historic antebellum home tours, unique shops, churches and breathtaking parks. Stay at The Barrow Inn or ShadeTree Inn and enjoy delicious breakfasts or choose from many other accommodations available. Have lunch at the quaint Magnolia Café near the town center.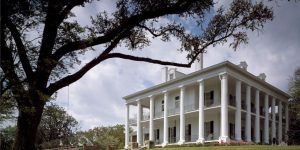 US Highway 61 North will take you to Natchez, Mississippi, your next stop along the land cruise. Enjoy the spectacular view of the Mississippi River from its high bluffs. Founded in 1716, and first inhabited by Natchez Indians and French Settlers, it is the oldest town on the Mississippi River. It will be difficult to choose which one of the many plantations to visit – or visit all of them. For the finest in Southern Hospitality and Fine Dining, stay at the Devereaux Shields House Bed and Breakfast or one of the other fine bed and breakfasts in Natchez.
Your next stop along the river will be Vicksburg, Mississippi, once again on the route of Highway 61. This town was described as "Key to the South" by Abraham Lincoln and blends Southern culture with exciting modern-day attractions. Civil War history abounds and you will certainly enjoy its museums, shops and fine dining.
Leaving the state of Mississippi via US Highway 61/278, your next stop along the Mississippi River will be Helena, Arkansas. Built in 1833, Helena's restoration with boutiques, unique shops and music venues is sure to please.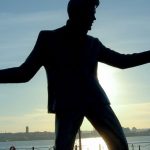 Finally, traveling again on US Highway 61, your Mississippi River journey ends in Memphis, Tennessee, birthplace of "rock and roll". This musical city was home to The King himself, Elvis Presley, and you can enjoy a self-guided tour of Graceland Mansion. Beale Street is another popular tourist destination and offers many unforgettable musical experiences.
From Memphis, you can continue along the Mississippi River, all the way up to its Headwaters at Lake Itasca in Minnesota. Or, since you'll be in the middle of the country, you can go in any direction that may interest you.