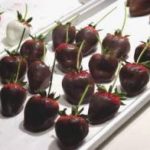 2 pints strawberries
1 lb. of candy making chocolate (milk chocolate, dark chocolate, or white)
1 tsp. Paramount Crystals
Finely chopped and toasted almonds, pecans or pistachios (optional)
Baking sheet, covered with sheet of waxed paper
Before starting, make sure berries are clean and very dry. In a microwave-safe bowl, melt candy-making chocolate in microwave on high for 2 minutes; stir, and continue to heat for 1 more minute. Remove from microwave and stir. There will still be lumps, but make sure you do not overheat. As soon as the chocolate is smooth, add the Paramount Crystals and stir.
Holding berry by stem, dip into chocolate and cover about ¾ of the berry. Then dip tip of berry into nuts if desired and place on waxed paper-covered baking sheet. Repeat with remaining strawberries, chocolate and nuts.
For double dipped berries: After first coating is set, dip into contrasting chocolate, leaving part of the first coating exposed.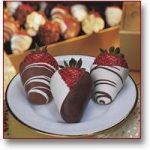 To drizzle strawberries with chocolate for decorating: Lay berries close together on waxed paper-covered baking sheet. Place melted chocolate in decorator bag or plastic bag. While squeezing gently, move back and forth over berries. For a fine drizzle of chocolate, the chocolate needs to be rather thin. Use more Paramount crystals, if necessary. For a real "gourmet looking" fine drizzle, hold the bag higher up rather than just above the berries. The line of chocolate will thin out even more.
Refrigerate