Debbie Buco of Empty Nest Pottery in Baton Rouge will be at The Stockade for Highland Nights on November 14, 2014. She has been doing business as Empty Nest Enterprises, LLC since 2009.
Debbie fell in love with clay while taking classes in throwing on the wheel at LSU. (No, not after watching that steamy film scene in "Ghost" which everyone always asks her about!) Debbie says, "Working with clay on a potter's wheel is like a dance – trying to 'lead' the clay into the form that you envision without having the whole thing collapse into a pile of mush. It is one of the most satisfying and the most frustrating things that I have ever done. My goal is to become the best potter that I can be and to create beautiful functional forms from the clay. I make pottery by throwing on a potter's wheel or by hand building, or by combining these techniques.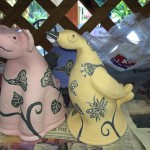 The process of making pottery consists of forming clay on the wheel or by hand, trimming the piece, adding surface decoration, bisque firing, glazing, and the final glaze firing.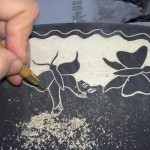 Surface decoration has become a major component of my work with clay. I love to draw and then carve designs into different color underglazes on a piece. I have been using the sgraffito and mishima techniques to draw Louisiana wildlife. Some of my favorites are pelicans, alligators, herons, ducks, and of course, chickens!
Sgraffito is Italian for "scratching" and the design is carved with a very small V-shaped tool. This is like drawing backwards because I remove the background underglaze revealing the white clay body. The picture is what is left uncarved.
Mishima results in a fine line drawing done in black underglaze on the piece of pottery. To achieve this effect, I use a very sharp pointed tool to draw my picture into the leather hard clay. The black underglaze is inlayed into the crevice and then wiped away with a damp sponge. After bisque firing, additional underglaze colors are hand painted on to create a water color effect.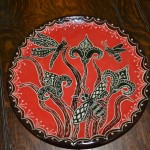 All of my pottery is glazed in lead free and food safe glazes.
I also make clergy stoles — those beautiful things that pastors and priests wear around their necks during church services! I will be opening an Etsy shop called Heart, Mind, and Stole soon to showcase these.
There are many potters who are making many beautiful things! The wonderment of it is that each of us could use the same clay, the same tools, glazes, and underglazes, and yet, create vastly different kinds of art. I think my work is unique because it showcases the life that I live here in Louisiana. I love the outdoors and wildlife and I try to share that beauty with others through my pottery.
Pottery is both exhilarating and frustrating. It is a complex and constant journey toward meeting my own expectations as a ceramic artist. I am grateful to have the opportunity to play in clay every day. Creating makes me happy!"
Biography: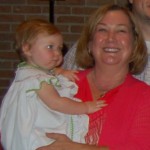 Debbie was born and raised in Baton Rouge. She received her BS degree from LSU in Elementary Education and a Master's degree in Guidance and Counseling, +30 in Gifted Education. She took pottery throwing lessons while at LSU. Debbie taught elementary and middle school gifted students in East Baton Rouge and Ascension parishes for 28 years before retiring in 2009.
In addition to seeing Debbie and her work at The Stockade during Highland Nights, you can see her pottery at the Baton Rouge Arts Market, held downtown on the 1st Saturday of every month and the first 3 Saturdays in December; Lagniappe Gallery, and Knits by Nana (knitting bowls only).
Debbie has visited India and wandered through the Taj Mahal (in 112 degree blistering sunshine!). She has snorkeled off of the Great Barrier Reef in Australia. She also walked through the Daintree Rainforest there. She has given birth to and raised 4 delightful sons and has 3 equally delightful grandchildren. Debbie raises hens (who provide delicious breakfasts)! She wrote an archeology activity guide about Poverty Point entitled "Expeditions", which includes lessons and activities to help students learn about the prehistoric culture in northeastern Louisiana. Poverty Point was recently chosen to be a World Heritage site! Check it out—it's in your local library! She and her husband are beekeepers and have 5 hives in their side yard. They occasionally make mead – a honey wine. Their peach ginger mead is awesome!