Not every innkeeper spends their days racing in a go-cart grand prix and their nights courting ghosts — but Janice DeLerno is not your ordinary innkeeper. And during this year's Louisiana Travel Promotion Association fundraising activities, Janice and several prominent members of the local travel industry did these things and more.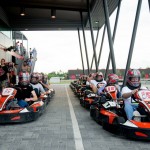 In conjunction with the LTPA Summit — which is held annually in August in partnership with the Louisiana Office of Tourism — there is also an optional fundraiser that LTPA members can choose to attend. This year's event was held at NOLA Motorsports, where attendees put their driving skills to the test in New Orleans' ultimate "geaux cart" racing experience.
After everyone crossed the finished line, Visit Baton Rouge Executive Director Paul J. Arrigo conducted the Travel Pac fundraising auction. In the end, the item with the highest bid was donated by Ms. DeLerno herself: a one night's stay and elegant dinner for ten at The Stockade Bed and Breakfast, won by Food Network Magazine.
On March 18, 2015, members of the Food Network Magazine staff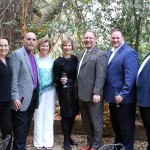 arrived at The Stockade to redeem their prize. Guests were Tim Chandler, Jennifer Walker and Susan Bravman with the Food Network; Kyle Edmiston, Assistant Secretary of Tourism and his wife, Leslye; Paul J. Arrigo, CEO and President of Visit Baton Rouge; Katie Guasco, Director of Marketing and Communications for Visit Baton Rouge; David and Mary Dalquist with the Scenic Byways Program.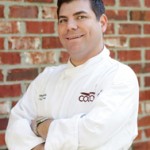 Chef Jeremy Coco, the Dean of Education and Chef Instructor at the Louisiana Culinary Institute, served as the chef for the evening. Drawing on his experience at Juban's Restaurant in Baton Rouge and his Southern background, Chef Coco prepared a menu using only Louisiana-based products and recipes. Dishes included handmade sausage, turtle soup and Zapp's Encrusted Redfish. Wine was paired and provided by Steve Staples of Paul Bologna Fine Wines.
At dinner, topics of conversation naturally gravitated toward issues facing the Louisiana tourism industry.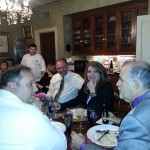 "I greatly enjoyed the opportunity to participate in conversations about important aspects of sustaining and growing Louisiana tourism experiences," said David Dalquist. "Being from Iowa, I can't remember the last time my wife and I enjoyed an evening so delicious and spirited!"
Susan Bravman also fondly recalled the evening's festivities. "We spend many evenings on the road, but this was truly a highlight," she said. "The group quickly became fast friends and the food was sublime … breakfast was just as delightful as dinner."
And despite Janice's best efforts, The Stockade's resident ghost Muffy was nowhere to be found. But the lack of ghostly spirits didn't seem to dampen the spirits of the guests involved.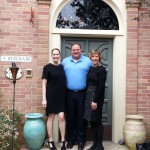 "We had the best time, the best food and the best company … it was a real Louisiana kind of party," said Jennifer Walker. "The Stockade is an incredible place to stay with such an incredible history. I can't wait to come back."