There are so many reasons to live in Louisiana, but Mardi Gras has to be at the top of the list. And like everything we celebrate in Louisiana, we have a food for that. The King Cake is without doubt the signature treat of Mardi Gras.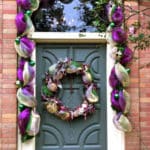 It is thought that the appearance of King Cakes began in New Orleans in the 1870's, however, something that tasty cannot be contained in only one place. Wherever Mardi Gras is celebrated, and even where it isn't, King Cakes are available, which certainly includes Baton Rouge. But not all year, for when it's not Mardi Gras season, they hibernate.
The season of Mardi Gras is celebrated beginning on the Epiphany and culminating on Mardi Gras Day. The Epiphany is January 6 and is recognized as the day on which the Three Kings presented themselves to Baby Jesus, and Jesus first showed himself to the Three Kings, and the world. In honor of the Three Kings, the cake is called "King Cake" and in honor of the Baby Jesus, a plastic baby is traditionally buried inside the cake. Like the kings in the biblical story, people search for the Baby Jesus in their slice of cake. The person who finds the baby in his slice becomes King or Queen for a Day but has the obligation to purchase the King Cake for the next party. Since Louisianians are known to throw a party to celebrate everything, this gives us a good reason to have King Cake parties all during the season. So, forget the diet! Eat King Cake!
Many years ago, most of the King Cakes were made as a dry roll type dough with cinnamon inside, covered with icing and topped with a modest amount of sugar in Mardi Gras colors: Purple (to signify justice), Green (to represent faith), and Gold (for power). As often happens, bakeries began to create King Cakes that would be better than the one down the block and creative doughs and fillings emerged. Danish-type dough is now very popular and the cakes may be filled with cream cheese, various fruit and pecan praline fillings and more.
In the custom of using the King Cake theme to create something unique, King Cakes can be filled with boudin (a spicy Cajun sausage), bacon, cheeses, Steen's cane syrup and topped with sweet pepper jelly and cracklins! These are found mostly in the Lafayette , Louisiana area. Other versions of the theme are King Cake alcoholic drinks, King Cake Coffee, King Cake ice cream topping, and more, with cinnamon being mostly the main ingredient.
So come to enjoy the parades but don't miss out on the signature treat of Mardi Gras, the King Cake!