Tours of Louisiana Plantations and historical buildings are one of the most popular day trips of guests of The Stockade Bed and Breakfast. People are interested in the history, beauty and romance of the area and also life as it was in long-ago days. But be warned! Some of these buildings may be haunted! Want to experience a ghost? We can't guarantee you will see a ghost when you visit our area, but if you're interested in that sort of thing, listed below are a few places that are thought to be haunted and that can be visited in a day trip from The Stockade.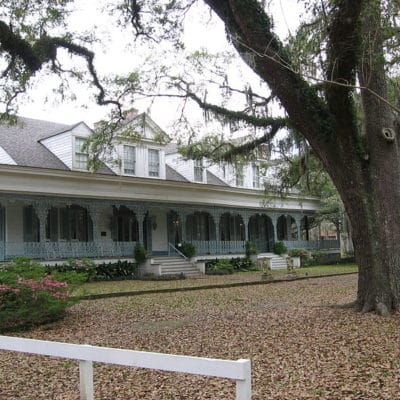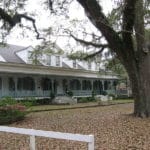 The Myrtles Plantation:
Located in St. Francisville, approximately an hour's drive from The Stockade Bed and Breakfast, this plantation may be the most well-known-to-be-haunted plantations in Louisiana. In fact, on the very first page of its website, it claims that it is "One of America's Most Haunted Homes". Though seeming peaceful and tranquil when first seen, this circa 1796 home, which is on the National Historic Register, is famed for its mystic and riveting history. Guided tours are offered daily, but for a real "ghostly experience", take the Evening Mystery Tour offered on Friday and Saturday evenings. If you're really brave, stay overnight – if you can last the entire night. Some people have reported spending most of the night in their cars after experiencing paranormal activity.
Oak Alley Plantation
Located in Vacherie, Louisiana, about an hour's drive from The Stockade, Oak Alley Plantation holds centuries of history. It has been said that the ancient magnificent oaks that form a canopy leading to the house offer more than a picturesque photo opportunity. They seem to protect secrets of the past that appear from time to time. A ghostly shadow has been seen peering out of a window. Listen carefully – if it's quiet enough, you may hear the sounds of an invisible horse and carriage coming up the alley of oaks. Paranormal activity of a candlestick flying across the room during a tour of the home and rockers rocking with no one in them have also been reported. Afraid of ghosts? Ghost Hunters visited the plantation in 2008 and found no conclusive evidence of ghosts. However, the stories still persist.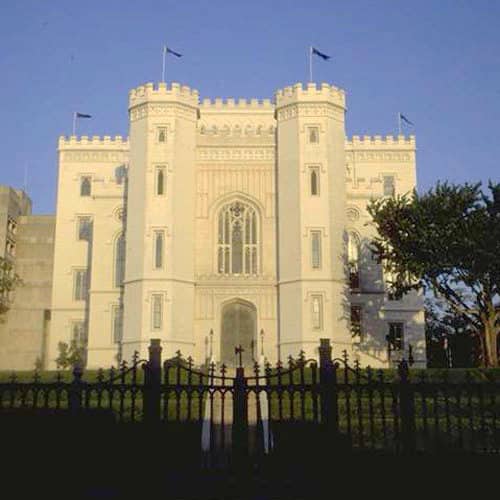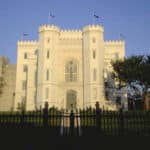 The Old Louisiana State Capitol Building
This building, which looks like a medieval castle, is one of the most popular landmarks in Baton Rouge. The only ghost that is reported here is that of a girl named Sarah Morgan. Her family donated the property the Old Capitol was built upon. There is even a 4D presentation for visitors called "The Ghost of the Castle". It tells the story of Sarah and the building's many trials throughout history. Visitors report hearing footsteps and seeing doors open and close in empty hallways.
Louisiana State University's Pleasant Hall
Once a women's residential hall on the LSU campus, Smith Hall later became a hotel known as Pleasant Hall. There lies the sad story of the girl who had a fight with her boyfriend and decided to shoot him. She was unsuccessful with that attempt but killed herself instead. This tragedy resulted in stories of this building being haunted. Room 312 is believed to be the actual room where she committed suicide. People have reported feeling a presence in that room, extreme temperature drops, strange noises and the door opening and closing on its own, as if the girl's spirit was still there and she comes and goes as she pleases.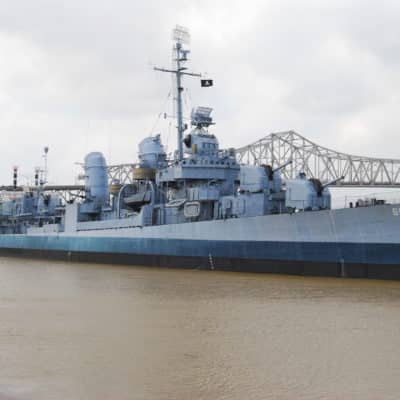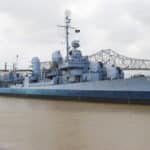 USS Kidd on the Mississippi River
This World War II ship, docked permanently in Baton Rouge, serves as a museum and offers daily tours. During World War II, the ship was hit by a kamikaze that killed 38 men on board. Ghostly apparitions of sailors in uniform aboard the ship have been reported.
Houmas House
Located in Darrow, Louisiana, only 30 minutes from The Stockade Bed and Breakfast, this exquisite plantation home and gardens is more than 200 years old and offers daily tours and accommodations on the grounds around the plantation. It is reported that the ancient oak trees are haunted by the spirit of 16 construction workers who lost their lives during a project on the Houmas House property. When you visit, try to catch a glimpse of the young girl in a blue dress that is sometimes seen on the staircase, but don't try to talk to her – she will disappear quickly.
While we can't guarantee that you will see a ghost if you visit one of these places, you may get lucky – or unlucky, depending on how you feel about ghostly spirits. Nevertheless, book your room now at The Stockade Bed and Breakfast and take your chances.
(Photo Credit: Myrtles Plantation)
(Photo Credit: USS Kidd: Courtesy of Louisiana Department of Culture, Recreation and Tourism)