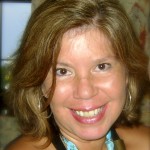 Jeana Esser will be displaying and offering for sale her artwork at The Stockade during Highland Nights on November 13, 2015.
According to Jeana, Jeana Esser Edgeful Art is an appropriate descriptive title for her company as she describes her art as "edgy". She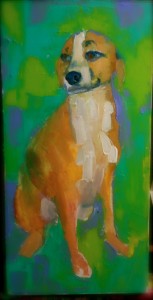 is also responsible for Uncle Bud Productions, which is all about her famous icon, Uncle Bud (who she will let remain a bit of a mystery for now). She is a local Baton Rouge artist and she paints things that move her. Everything she paints has gotten in her head for some reason or another and has an importance.
Jeana is a talented Visual Art teacher at Woodlawn High School. In addition, she is a local artist, teacher, musician, and writer (contributing writer for Town Favorites), she is an animal lover, dogs primarily, but recently she has been captivated by hummingbirds due to the long hours she has spent looking out of her kitchen window.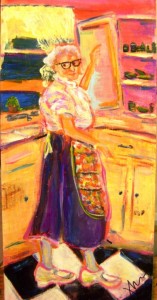 Her inspiration comes from a plethora of sources. She recreates many of her father's vintage photographs in her own context, taking liberties with color and scale. She often exaggerates perspectives as well. Much of her paintings, drawings, and sculptures are of a whimsical nature, thus fueling her love of finding humor in all things and using color to enhance it. Places where she has travelled and moments in time also contribute to her creativity. In a nutshell, she is an artist through and through. She loves teaching art workshops for all ages. She is most at peace when she is in her studio surrounded by her furry friends and great music, which is constantly going on in her house! Her most important job, however, is being a mother. She has an amazing daughter who never ceases to inspire her and make her want to be better in all areas of her life.
As of this moment, she is "smelling the roses" and creating a new body of work in addition to a few part-time ventures. She has taught Art and Pre-K for a few years now but at this time she is creating more art and showing it all over. Currently, she shows her work at The Foyer, Mosaic Garden, and Portobello's Grill on Jefferson Highway. Additionally, she is starting a dog walking/pet sitting business, as well, so she is doing the things that she loves.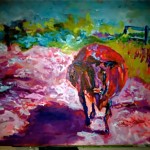 When asked makes her art different, she responded, "Because it symbolizes who I am, what I see and how I see. "
Jeana Esser Biography
I first picked up a pencil and large drawing pad when I was 4. I actually remember drawing a picture of one of my dad's friends, who I called "Mr. Nose" for obvious reasons. Apparently the likeness was rather uncanny according to my mother. After that, a monster was created. I hardly ever left the house without a pad and pencil. Painting happened much later. I graduated from LSU with a BFA and a minor in Art History.
My inspiration tends to transcend beyond what may be normal and that allows me to take liberties with everyday things, people, and places. Images tend to pop into my brain and I cannot wait to put them onto canvas. My paintings are often whimsical in nature and much of my subject matter comes from my late father George's faded black and white photographs. I then recreate them using my own colors and context.
My life is anything but dull and I consider myself lucky in that being creative is not an option. It's who I am. I am thankful for the important people in my life who contribute to my overall happiness and successes. In the words of Michelangelo: "Believe it or not, I can actually draw."
Jeana Esser