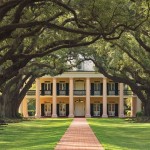 Oak Alley Plantation is located on the Mississippi River, on River Road in Vacherie, St. James Parish. Called the Grande Dame of the Great River Road, it is named after its distinguishing feature, an alley or canopied path created by a double row of live oaks, about 800 feet long, which runs between the house and the Mississippi River. The oaks were planted in the early 18th century, long before the present house was built. The property is composed of 25 acres of history and romance, regret and rebirth, tragedy and triumph.
At Oak Alley, you can enjoy a professionally guided tour of the Big House; visit the Civil War Encampment; Witness the "Slavery at Oak Alley" exhibit; explore 25 historic acres; see newly planted pecan trees commemorating Antoine, an enslaved gardener who grafted the first paper shell pecan; visit the Blacksmith Shop; stroll the magnificent alley of 300 year old live oak trees leading a quarter mile to the Mississippi River; and shop in the Gift Shop. There is also a restaurant on the property offering Cajun/Creole Cuisine. Cottages on the property offer an overnight stay.
Oak Alley was built, along with other plantations, when the River Region sugar industry was flourishing. Many of these homes have disappeared by the passage of time, but Oak Alley remains as a testimonial to the Old South's Golden Age.
It was restored in 1925 by Mr. and Mrs. Andrew Stewart, carefully planned so that the inclusion of modern plumbing and kitchen facilities would conform to the original architectural format.
Shortly before her death in 1972, Josephine Armstrong Stewart created the Oak Alley Foundation, a 501(c)(3) non-profit , charitable, literary, educational trust, so that, through the love and support of those who value a region's link to the past, the mansion and 25 acres of grounds would endure.
Zeb Mayhew, Jr., Josephine Stewart's great-nephew jumped at the opportunity to take over the Oak Alley Foundation.
For more information, visit http://www.oakalleyplantation.com
For directions to the plantation, visit: http://www.oakalleyplantation.com/plan-your-visit/map-directions