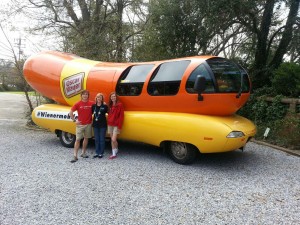 The Oscar Mayer Wienermobile Wiener Roast at The Stockade on March 13th was a big hit! It was a party that none of The Stockade Bed and Breakfast staff will ever forget.  The staff hosted a cookout for friends and neighbors to take a tour of "Big Bun", which is the name of the Wienermobile.
Wienermobiles are a series of automobiles shaped like a hot dog on a bun which are used to promote and advertise Oscar Mayer products in the United States.  Drivers of the Wienermobiles are known as "Hotdoggers" and often hand out toy whistles shaped as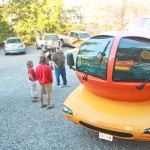 replicas of the Wienermobile, known as "Wienerwhistles".  The Hotdoggers who drove the Wienermobile to The Stockade were Steve and Alex.  There are 6 different crews of mobiles and each has a team of 2 Hotdoggers.  They are hired for a period of one year, from June to June.  They are in high demand to travel to different markets to promote Oscar Mayer products.
Adults and children alike enjoyed the fun and everyone got a Wienerwhistle and key chain.  Alex and Steve commented that they were excited to see so many folks show up for the occasion.
Two persons from the Lt. Governor's Office in Baton Rouge came to the event.   Janice DeLerno, the owner of The Stockade, (the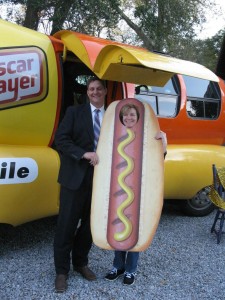 one in the hot dog bun) posed for a picture with Jacques Berry, Communications Director for Lt. Gov. Jay Dardenne's Louisiana Office of Tourism.
First the Red Chair, now the Oscar Mayer Wienermobile!  What's next?