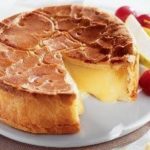 Ingredients:
2 oz. raspberry jam
2 oz. Chipotle raspberry sauce
1 Tbsp. eau de vie (optional)
4 oz. soft ripened brie
2 oz. toasted walnuts or pecans
Cracked black pepper
Pastry sheet
1 egg
Directions:
Preheat oven to 350˚.
Combine jam and sauce in saucepan and reduce. Add 1 Tbsp. eau de vie if you have some. If not, skip it.
Pour sauce, nuts (reserve some sauce and nuts for topping), and cracked black pepper on top of brie and wrap in pastry. Brush with egg wash.
Bake for 20 minutes at 350˚. Let cool slightly. Pour more sauce and walnuts over top.