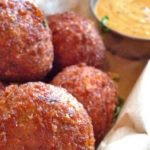 Boudin is a type of sausage very popular in Louisiana. Also popular are Boudin Balls made from the meat and rice inside the casings, dipped in batter and fried. Simply delicious!
Ingredients for Boudin Balls:
3 pounds Boudin sausage, removed from casings
1 cup all-purpose flour
1 tablespoon plus 1 teaspoon kosher salt
2 cups Panko breadcrumbs
2 large eggs
1/4 cup milk
Vegetable oil, for deep-frying
Ingredients for Creole Mustard Dipping Sauce:
1 cup Sour cream
5 tablespoons Creole mustard
Cajun seasoning, to taste
Directions:
Prepare breading station: Make the seasoned flour by adding 1 tablespoon of salt to the flour and stir. Place seasoned flour, and breadcrumbs in individual shallow bowls. In a third shallow bowl, whisk the eggs together with the milk and the remaining 1 teaspoon salt.
Remove boudin from casing into a mixing bowl. Shape the boudin into balls the size of golf balls. Dredge the balls in the flour, and then dip them in the egg wash, letting the excess drip off. Finally, dredge the balls in the breadcrumbs, turning to coat them evenly.
Transfer the boudin balls to a parchment-lined baking sheet and refrigerate for at least 30 minutes or overnight.
Preheat the vegetable oil in a deep fryer to 350°F. Using a slotted spoon and working in batches, place the balls gently into the oil and fry until golden, 3 to 4 minutes. Remove from the oil and drain briefly on the prepared baking sheet with rack. Let them cool briefly before serving.
Creole Mustard Dipping Sauce: In a small bowl, stir together the sour cream, Creole mustard and Cajun seasoning to taste.
Serve the boudin balls hot or warm, with the Creole Mustard Dipping Sauce alongside.
(Photo credit: Real Cajun Recipes)