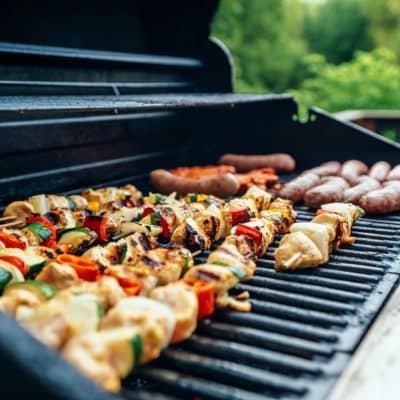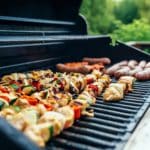 INGREDIENTS:
½ cup bourbon or 2 tablespoons apple cider vinegar
½ cup honey
½ cup mustard
½ teaspoon black pepper
3-4 sweet potatoes, cut into one-inch cubes
1 1/2 lbs. pork tenderloin, cut into one inch cubes
4 medium ripe unpeeled peaches, cut into one-inch cubes
4 green or red bell peppers, cut into one-inch pieces
8 yellow onions, cut into 2-inch pieces
Olive oil for grilling
Salt and pepper to taste for seasoning pork
10-inch skewers
DIRECTIONS:
First make the honey glaze by mixing the first four ingredients in a bowl. Stir well and set aside.
Boil sweet potatoes until partially done. (Firm enough to place on skewers.)
Season the pork with salt and pepper.
Thread potatoes, pork, peppers, peaches and onions alternating each onto a skewer to make one kabob.
Brush kabobs with honey glaze mixture. Lightly coat the grill with oil.
Cook kabobs over medium heat for 5 minutes on all sides, basting occasionally with the glaze.
(Prep time, cooking time and number of servings listed below are approximate.)
Recipe used with permission from author Gretchen Frith, "From My Kitchen to Yours".