You can make frittata with just about anything thrown in!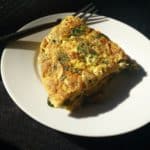 Ingredients:
8 eggs
½ c. milk
4 green onions, chopped
¼ c. red & green bell pepper, chopped and mixed  8 asparagus stems, steamed
¾ c. pepper jack cheese, shredded
Tony Chachere's seasoning
Directions:
Scramble eggs with milk, leave uncooked. Butter a 12" skillet and sauté onions and bell pepper. When soft, add egg mixture. Cook covered over medium-low heat. When cooking, lift and move uncooked mixture under cooked mixture until done. Put cheese on top and place under broiler until melted.
When done, turn onto serving platter and slice like pizza (that's why some of our guests call this "breakfast pizza"). Place asparagus spears on each slice as garnish.
Serves 4 to 8, depending on how hungry everybody is.