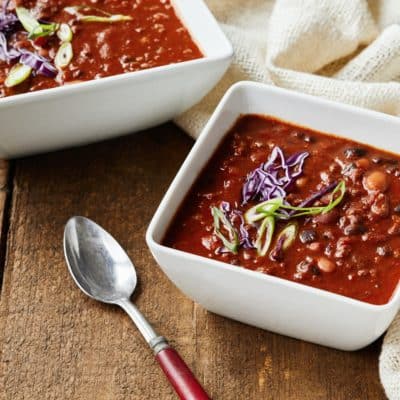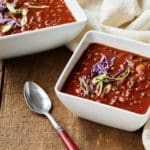 Ingredients:
2 lbs. stew beef, cut into bit-size chunks
1 lb. ground pork
2 medium green peppers (chopped)
2 medium Spanish onions (chopped)
3 cloves garlic, minced
3 Jalapeno peppers, chopped fine (mor or less to taste)
1-24 oz. can whole tomatoes
1-16 oz. can tomato sauce
2-24 oz. cans red kidney beans
¼ cup Worcestershire sauce
¼ cup white vinegar
½ cup beer5 Tablespoons Chili powder
¾ teaspoon Cayenne (ground red pepper)
1 teaspoon salt
1 teaspoon cumin
1 tablespoon oregano
3 cups Cheddar cheese, grated
Directions:
Cook pork and beef over medium-high heat in a large stew pot for 15 minutes, then add Worcestershire sauce. Continue cooking until meat is browned. Drain excess liquid and set aside. Continue cooking and add remaining ingredients, except for the beans and the reserved liquid. It is recommended that the spices be added first. Bring to a boil then reduce heat. Cover and simmer for ½ hour, stirring occasionally. Check the consistency of the chili. If more liquid is desired, add the reserved liquid after removing the fat. Add the beans and simmer for an additional ½ hour.
It is best to remove the chili from the heat and let it cool some before serving. Top with grated Cheddar cheese and serve with crackers, if desired.
*Preparation time is approximate.
*Number of servings is approximate.
Recipe used with permission from author Gretchen Frith, "From My Kitchen to Yours".