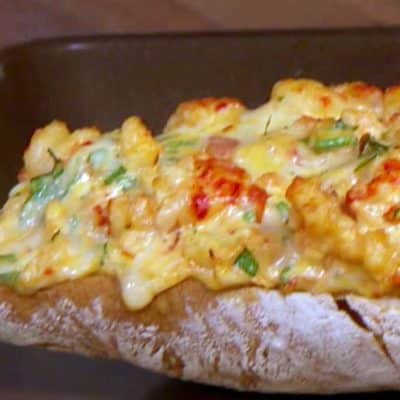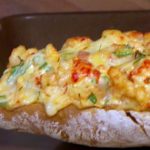 It's Crawfish Season in Louisiana, so here's a way to prepare it, compliments of the Food Network.
Ingredients:
1 pound crawfish tail meat, peeled, cleaned and deveined
1/2 stick butter
1 clove garlic, minced
3/4 cup chopped and drained ripe tomatoes
1 tablespoon Cajun seasoning
3/4 cup Monterey Jack Cheese
1/4 cup grated Parmesan
1/2 cup mayonnaise
3 tablespoons chopped fresh parsley
1 loaf French bread
Directions:
Preheat the oven to 350 degrees F.
Rinse the crawfish. In a large skillet, melt the butter over medium heat. Add the garlic and cook for a few minutes. Add the tomatoes, Cajun seasoning and crawfish. Saute for 1 minute. Remove from the heat.
In a bowl, mix together the cheeses, mayonnaise and parsley. Add the tomato and crawfish mixture to the mayo mixture.
Cut the loaf of bread in half and then cut the bread lengthwise. Spoon the mixture on the bread and bake for 10 to 15 minutes. Then broil for an additional 3 to 5 minutes. Watch closely, as not to burn. Cut the bread into individual portions.
Courtesy of Food Network: http://www.foodnetwork.com/recipes/crawfish-bread-recipe.html?oc=linkback
A viewer or guest of the show, who may not be a professional cook, provided this recipe. The Food Network Kitchens chefs have not tested this recipe and therefore, we cannot make representation as to the results.