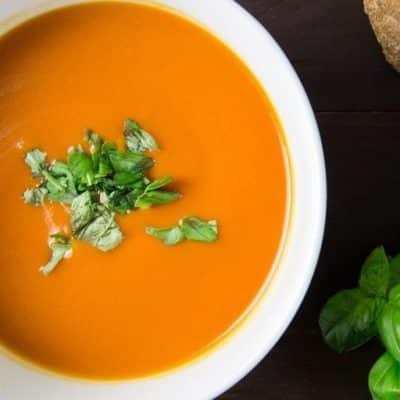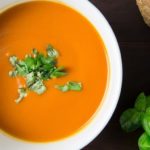 This is not your regular tomato soup. The cream makes it yummy!
Ingredients:
1 – 28 oz. can Diced Tomatoes (small diced)
1 ½ cups V-8 juice (original)
1 ½ cups Chicken Broth
4 Tablespoons Fresh Basil, chopped
3 cloves of Garlic, minced
½ t. Salt
½ t. Pepper
¼ cup Butter, cubed
1 cup Heavy Whipping Cream
¼ cup Fresh Shredded Parmesan Cheese
Instructions:
In a large stockpot or French Oven, bring diced tomatoes (with juice), V-8 juice, chicken broth, basil, garlic, salt and pepper to a boil. Reduce heat to low and simmer for 30 minutes.
Add butter, heavy whipping cream and Parmesan cheese, stirring continuously. Bring heat to medium and stir until butter has melted.
Serve hot, topping with additional Parmesan cheese as garnish, if desired.
Wonderful with Grilled Cheese Sandwiches!