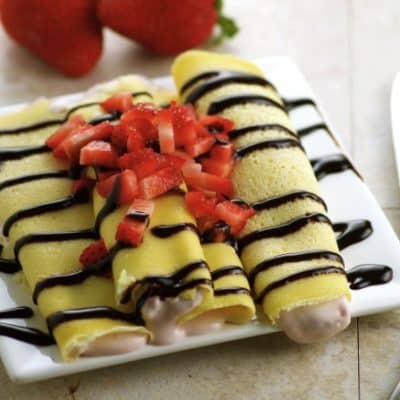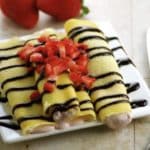 Strawberries are in season right now in Louisiana. We thought you might enjoy this recipe from Food.com. This would make an impressive and delicious breakfast for guests.
INGREDIENTS:
Strawberry Cream:
2 cups sliced strawberries
1⁄4 cup sugar
1 (8 ounce) package cream cheese, softened
1⁄4 cup powdered sugar
Crepes:
2 tablespoons sugar
1⁄2 teaspoon vanilla
4 eggs
1 1⁄3 cups milk
2 tablespoons oil or 2 tablespoons melted butter
1 cup flour
1⁄2 teaspoon salt
DIRECTIONS:
To make strawberry cream:
Combine the strawberries and sugar and chill, anywhere from an hour to overnight.
Drain excess water from strawberries and sugar.
In mixing bowl blend cream cheese and powdered sugar until smooth.
Stir in reserved strawberries.
To make dessert crepes:
Beat eggs; add remaining ingredients (batter can be refrigerated up to 2 hours).
Heat pan over med-high heat (you can use an actual crepe pan, but I just use a small frying pan).
When a few drops of water sprinkled on the pan bounces is about the right temperature.
Pour about 1/8 cup of batter into pan, tilting to spread evenly.
When the crepe has turned a light brown color you may or may not want to turn to brown other side.
Turn to brown other side if batter has not set.
Fill crepes with strawberry cream.
May serve immediately or chills well in the refrigerator (up to 2 days).
Before serving I usually sprinkle a little extra powdered sugar on the crepes.
The dessert crepe recipe will also work well with many other fillings.