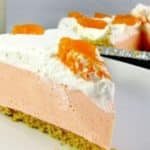 This light, refreshing pie will earn you many compliments. Tastes just like the Dreamsickle ice cream on a stick you may have enjoyed as a child.
Ingredients:
• 8 oz cream cheese, regular or no fat, room temperature
• 16 oz cool whip, thawed (or two 8 oz. tubs)
• 1 small box sugar free vanilla pudding, only use the powder
• 1 small box sugar free orange Jello, only use the powder
• 1 small can crushed pineapple or pineapple tidbits…drained
• 1 small can mandarin oranges, drained
• 1 9" graham pie crust
Directions:
1. Place the cream cheese in a medium sized bowl. Pour the vanilla pudding powder and the orange Jello powder over the cream cheese. With a hand mixer mix until very smooth.
2. Mix in 8 oz. cool whip into the cream cheese mixture with the hand-mixer. May be a little chunky due to the cream cheese, which is okay.
3. Drain the mandarin oranges and pineapple well.
4. Fold in the drained mandarin oranges and pineapple. You may want to reserve a few mandarin oranges to garnish the top of the pie.
5. Transfer to pie crust and smooth the top
6. Add the remaining cool whip to the top of the pie. Garnish with a few mandarin oranges, if desired.
7. Refrigerate for at least 4 hours, or overnight.