This recipe is quick, easy and delicious!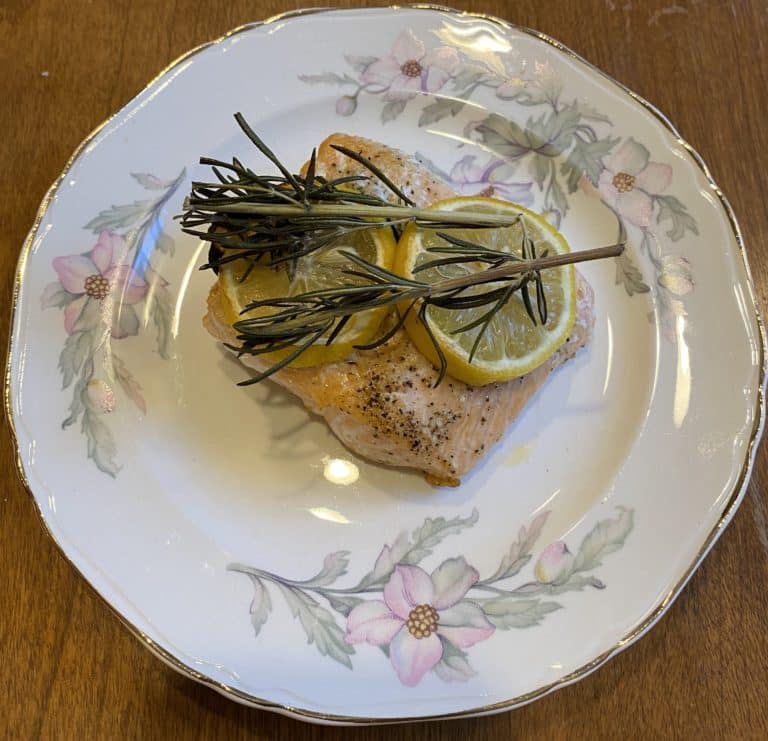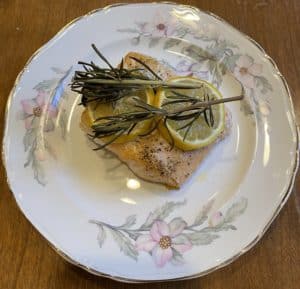 Ingredients:
Boneless salmon, skin on or off (cut into approximately 3" x 5" slabs)
1 Lemon, sliced in ¼" slices
½ stick Butter, melted
Salt and Pepper to taste
Garlic powder to taste
Sprigs of fresh rosemary (optional)
Parsley for garnishing (optional)
Directions:
Preheat oven to 375 degrees.
Melt butter; pour butter onto foil-lined baking sheet. Place salmon fillets in butter, covering each side. Season both sides with salt, pepper and garlic powder. Place lemon wedges on top of salmon. Place rosemary on top of lemon wedges. Bake at 375 degrees; the bake time depends on the thickness of the salmon and whether or not you want it pink in the center or completely done, but no more than 15 minutes.
Remove lemon wedges and rosemary, setting aside. Broil salmon in baking pan for 3-5 minutes, to desired browning and crispness.
Place lemon slices and rosemary back on salmon for garnishing before serving. Sprinkle with parsley if desired. Serve immediately.