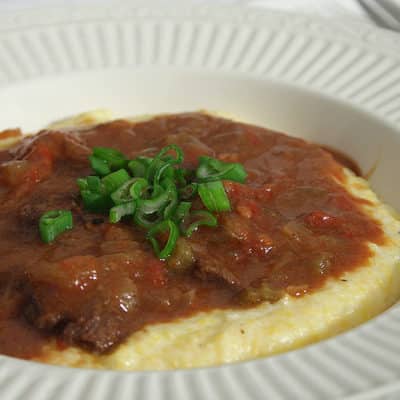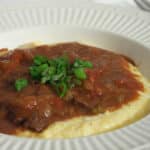 From Janice DeLerno: I am from N'Awlins originally and came to Baton Rouge to attend LSU. My mother taught me to cook when I was a little girl.
Like many of the recipes in South Louisiana, Grits & Grillades was introduced by the Creole people. The French and Spanish settlers brought their own styles of cooking and blended them with local crops to create dishes as hot and sultry as the Louisiana nights. Grillades (pronounced gree-yahds) is a rich, dark gravy with braised meat served over creamy, garlic cheese grits. The Creoles served it for midday brunch or late night suppers after their Mardi Gras balls.
NECESSARY UTENSILS: Tenderizing Mallet, Sauté Skillet, Stock Pot, 2 Qt Sauce Pan, 9 x 13 casserole dish.
INGREDIENT LIST (Grillades):
4-5 lbs. beef or veal round steak
flour for dredging
Tony Chachere's Creole Seasoning
Granulated Garlic
Vegetable Oil for browning meat
1 c. chopped onion
1 c. chopped celery
½ c. chopped green pepper
½ c. chopped red pepper
1 c. chopped green onions
4-5 cloves chopped garlic
3 c. water
1 c. white wine
3 c. Rotel tomatoes
Bay leaf, salt, pepper, & Worcestershire sauce for seasoning
Parsley for garnish
STEPS:
1) Tenderize meat with mallet and cut into strips
2) Season meat with Tony's & Granulated Garlic
3) Dredge meat in flour and pan sauté in oil until brown
4) Remove meat from skillet and add flour to make a medium dark roux
5) Add vegetables and cook until soft
6) Add remaining ingredients and put into stockpot for simmering until meat is tender
(about 1 hour or so)
7) Add more liquid if necessary.
8) Garnish with parsley & green onions and serve over grits
INGREDIENT LIST (Garlic Cheese Grits):
6 c. Cooked Grits
2 rolls Kraft Garlic Cheese (cut into pieces)
2 T. Worcestershire Sauce
2 T. Granulated Garlic
Tony Chachere's Creole Seasoning
STEPS:
1) Cook grits according to package directions
2) Add rest of ingredients until blended
3) Pour into buttered casserole dish
4) Sprinkle with Paprika
5) Bake at 350 for 30 minutes
Have fun with this dish and remember that you can tailor it to your specific taste, seasoning wise. It is meant to cook for a long time until the meat is so tender that you can cut it with a fork. The Grillades are served over the Grits below.
Bon appetite and, as we say in South Louisiana, "Laissez le Bon Temps Rouler!" (Let the good times roll!)