Print This Recipe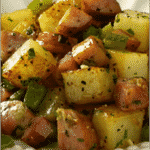 This recipe comes via my dear friend Chef Kenny Canezaro. He taught me many things besides hash browns.
Ingredients:
2 large potatoes
4 green onions, chopped
2 cloves garlic, chopped
¼ c. bacon fat
½ stick butter
Tony Chachere's seasoning
Instructions:
Cube potatoes.
Sauté onions, garlic, and potatoes in bacon fat until brown.
Add butter and seasoning.
Sprinkle with chopped parsley.