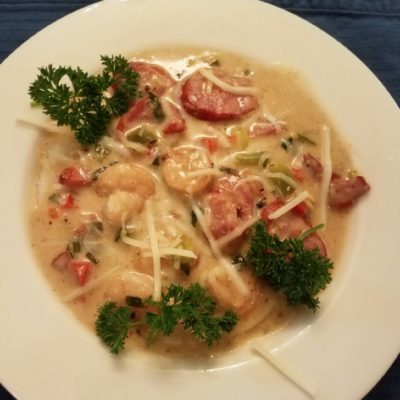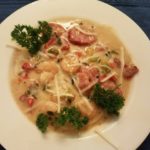 As everyone knows, the Louisiana version of ANY recipe gets even more flavorful with unique ingredients and almost assuredly has more calories and yummy taste. The Low-country version of Shrimp and Grits doesn't have the andouille sausage, tasso (which may be hard to find in other areas of the country), or the cream and wine!
But, we LOVE our food here in Louisiana, so I am sharing my version of the classic Carolina dish with a Creole-Cajun twist. You may add or delete items based on your personal taste. And, if you don't like grits, you just may change your mind about that after trying this dish. Also, note that you can add cream into the grits if you want to make them even more oooeee, gooeey or substitute chicken broth to boil the grits in.
Ingredients:
1cup stone-ground grits
Salt and pepper
Garlic powder
1/4 cup butter
1 cup shredded sharp Cheddar cheese
1 cup shredded Parmesan cheese
2 links Cajun Andouille sausage
4 oz. smoked Tasso
1/4 stick butter
1 cup thinly sliced green onions, white and green parts
2 large garlic cloves, minced
1 pound medium shrimp, peeled and deveined
1/4 cup white wine
1/4 cup half and half
1/2 lemon squeezed
2 tablespoons chopped parsley
Cajun Seasoning (optional)
Directions: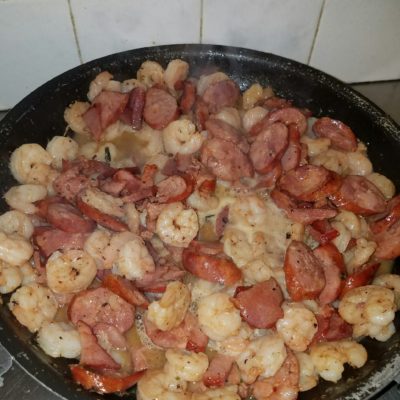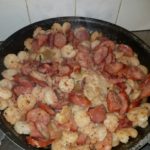 In a medium saucepan, bring 4 cups of water to a rolling boil. Pour in the grits, season with salt, pepper and garlic powder and stir well with a whisk. Turn down the heat and cook grits until soft, about 30 minutes. Stir in ¼ cup butter and cheeses. Cover the pot and keep it warm until ready to serve.
Cook the sausage and tasso in a skillet until brown, then transfer to a paper towel to drain. Add ¼ stick butter and saute' onion and garlic until slightly wilted, then add shrimp and sauté them until they just turn pink, about 3 minutes. DO NOT overcook or they won't be tender. Add wine, half & half, lemon juice until blended and smooth. Take the skillet off the heat and add sausage and tasso.
To serve the Shrimp and Grits, ladle the grits into a large serving bowl. Spoon shrimp and sausage sauce over grits. Garnish with parsley and Voila!, you have the dish complete.