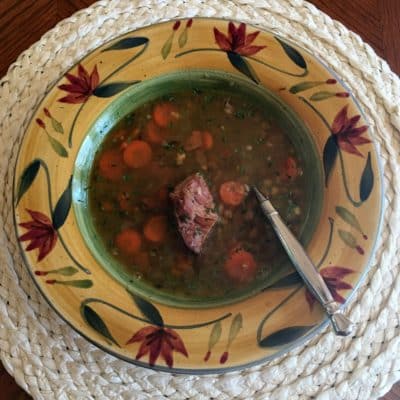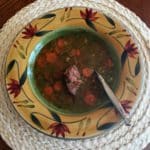 Ingredients:
• 2 T. olive oil
• 2 cups onions, diced small
• 1 cup celery, diced small
• 1 cup carrots, diced small
• Salt
• Freshly ground black pepper
• 2 T. chopped garlic
• 2 bay leaves
• 6 sprigs of fresh thyme
• 3-4 smoked ham hocks
• 2 quarts chicken stock
• 1 pound lentils (soaked – see below)
• 2 T. chopped parsley
Directions:
Before making the soup, you may want to soak the lentils for about 7 hours. Soaking them actually neutralizes the anti-nutrients found in the shell and helps with digestion. It also helps them to cook faster. To soak them, put them in a large pot and add up to 3 times more water than lentils as they will double in size. After soaking, drain and dispose of the water. The lentils will now be ready to cook.
Add 2 T. olive oil to a large 6-quart pot set over medium heat. Saute' the onions, celery and carrots for about 4 minutes. Season with salt and pepper. Add the garlic, bay leaves and thyme and saute' for 1 minute longer. Add the ham hocks and stock. Bring the liquid to a boil, reduce heat to medium-low and cook, covered, about 1 hour or until the hocks are tender.
Remove the lid, add the lentils and continue to cook for 25-30 minutes, stirring as needed, until the lentils are tender. Remove from heat and stir in parsley. Season with more salt and pepper if needed.
Remove the ham hocks. Remove the meat from the skin and bone. Add the ham back into the soup.
Enjoy!