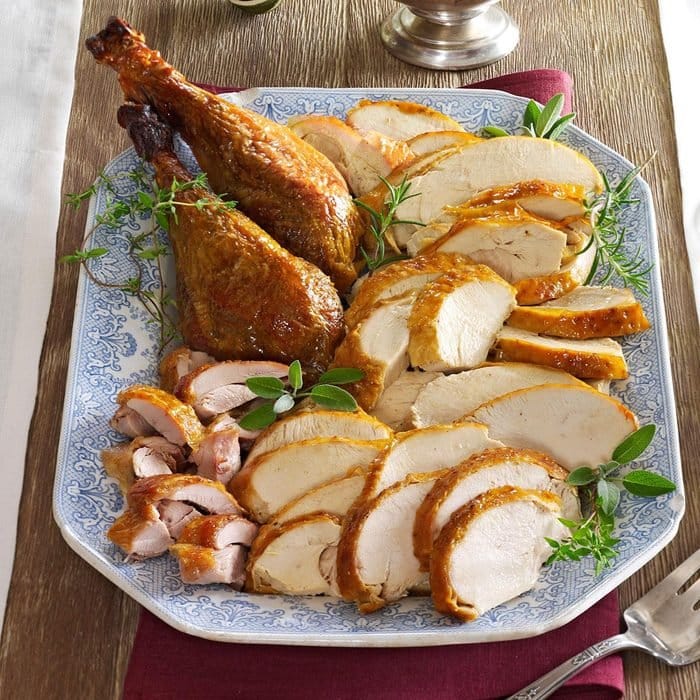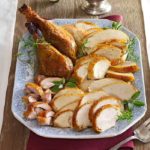 Take the stress out of your Thanksgiving Day by roasting your turkey ahead of time that's ready to serve when you are. This recipe courtesy of Taste of Home.
Ingredients:
1 turkey (14 to 16 pounds)
2 teaspoons poultry seasoning
1 teaspoon pepper
3 cups chicken broth
1/2 cup minced fresh parsley
1 tablespoon minced fresh thyme or 1 teaspoon dried thyme
1 tablespoon minced fresh rosemary or 1 teaspoon dried rosemary, crushed
2 teaspoons grated lemon zest
1/4 cup lemon juice
2 garlic cloves, minced
For serving:
1-1/2 cups chicken broth
1 tablespoon butter
1 tablespoon all-purpose flour
Directions:
Preheat oven to 325°. Place turkey on a rack in a roasting pan, breast side up. Sprinkle with poultry seasoning and pepper. Tuck wings under turkey; tie drumsticks together.
Roast, uncovered, 30 minutes. In a 4-cup measuring cup, mix broth, herbs, lemon peel and juice, and garlic; pour over turkey. Roast, uncovered, until a thermometer inserted in thickest part of thigh reads 170°-175°, 3 to 3-1/2 hours, basting occasionally with broth mixture. Cover loosely with foil if turkey browns too quickly.
Remove turkey from pan; let stand at least 20 minutes before carving. Skim fat from cooking juices.
To freeze: Carve turkey and place in shallow freezer containers. Pour cooking juices over turkey; cool slightly, about 1 hour. Cover and freeze up to 3 months.
To serve: Partially thaw turkey in refrigerator overnight. Preheat oven to 350°. Transfer turkey and cooking juices to a large baking dish. Pour 1-1/2 cups broth over top. Bake, covered, until a thermometer inserted in turkey reads 165°, 50-60 minutes.
To prepare gravy: Remove turkey to a platter, reserving broth mixture; keep warm. In a saucepan, melt butter over medium heat; stir in flour until smooth. Gradually whisk in broth mixture; bring to a boil, stirring constantly. Cook and stir until thickened, about 2 minutes. Serve with turkey.
Recipe courtesy of Taste of Home: https://www.tasteofhome.com/recipes/make-ahead-turkey-and-gravy/
(Preparation and roasting times are approximate.)