INGREDIENTS: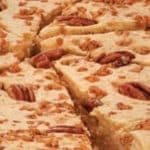 2 cups pancake mix
2 eggs, beaten
1 ¼ cups milk
2 tablespoons vegetable oil
1 teaspoon maple syrup
¾ cup granola without raisons
¼ cup toasted coconut
¾ cup pecan pieces
Syrup and sliced fruit, optional
DIRECTIONS:
Preheat oven to 425 degrees.
Combine eggs, milk, oil and maple syrup in a mixing bowl. Add pancake mix and stir until smooth. Pour onto a heavily greased round cookie sheet. Mix granola, coconut and pecan pieces together and sprinkle over pancake mixture.
Bake for 11 – 13 minutes or until a toothpick comes out clean.
Cut into pizza wedges and top with syrup and/or fruit, if desired.
(Recipe used with permission from Gretchen Frith, "From My Kitchen To Yours" (The "Bleep" My Family Eats!)