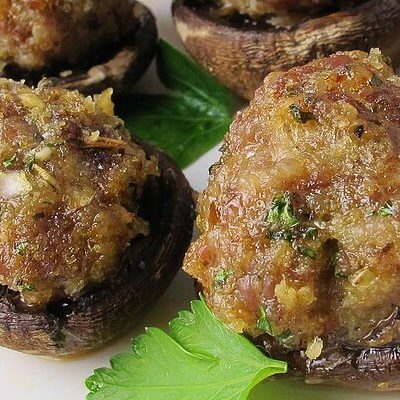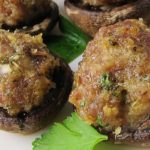 8 oz. cream cheese
¼ cup chopped green onions
1 pound fresh sausage
8 – 10 large mushrooms
¼ cup Parmesan cheese
Remove sausage from casing and cook on medium high heat in a non-stick pan. Stir until crumbly and browned, then let cool 20 minutes. Transfer sausage to a mixing bowl, then add cream cheese and green onions. Mix well. Spoon the mixture into mushroom caps. Place on a baking sheet and sprinkle with Parmesan cheese. Broil for 3 – 4 minutes or bake for 20 minutes.
(Recipe used with permission "From My Kitchen to Yours – The "Bleep" My Family Eats" by Gretchen Frith.)
(Photo courtesy: allrecipes.com)