This is a healthy dish which, once the ingredients are chopped and sliced, takes very little time to cook. Leftovers, if there are any, are just as good.
Ingredients:
1 pound shrimp, peeled (leave tails on fo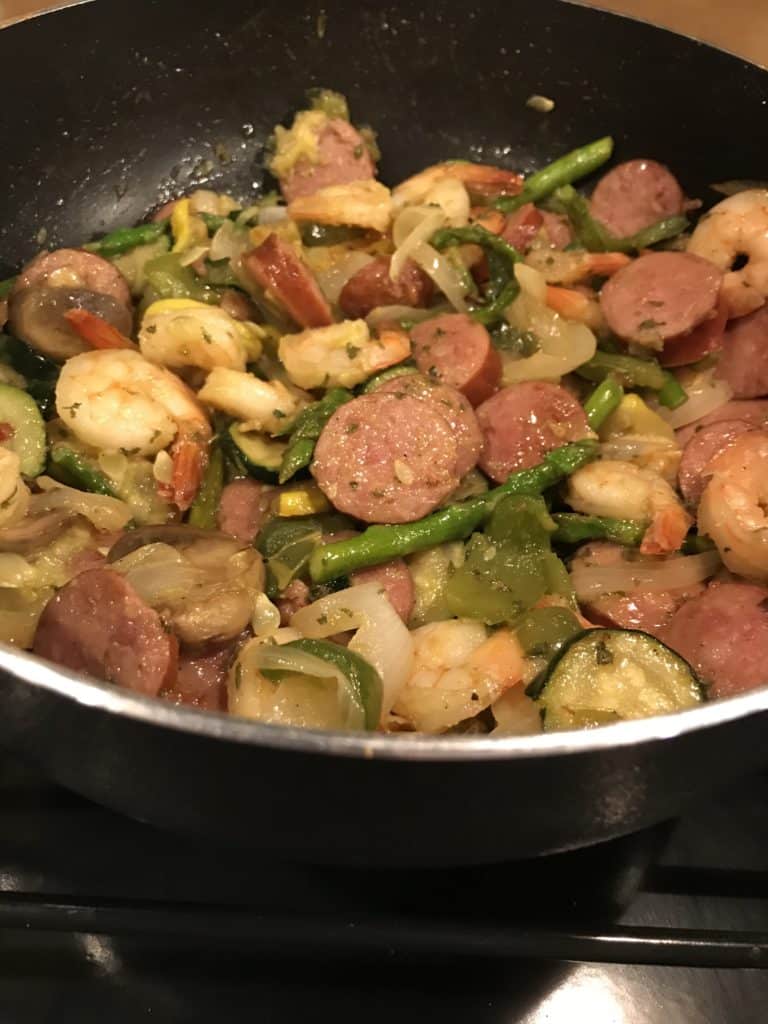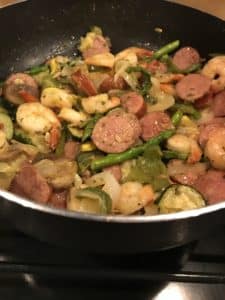 r more flavor, if desired)
½ pound smoked sausage, sliced
1 yellow onion
1 medium zucchini, sliced
1 medium yellow squash, sliced
1 bunch asparagus, sliced in half
1 red bell pepper, chopped into chunks or sliced
½ package of sliced mushrooms (optional)
2 cloves of garlic or garlic powder
Salt, Pepper, Tony's seasoning, Parsley
2 T. olive oil (or coconut oil)
1 T. butter
1 ½ T. butter (for mushrooms)
Directions:
• Heat a large skillet over medium-high heat with 1 T. olive oil or coconut oil and 1 T. butter
• Season shrimp with Tony's seasoning
• Cook shrimp about 3-4 minutes until opaque – remove to separate bowl and set aside
• Meanwhile, cook mushrooms in ½ T. butter in separate skillet – set aside
• Cook bell peppers, zucchini, and squash in skillet that you cooked shrimp in with 1 T. olive oil or coconut oil; add onions, garlic and sausage before veggies are cooked and cook along with veggies (onions will burn if added too early). Cook until veggies are soft.
• Put cooked shrimp and mushrooms back into skillet with veggies. Add salt, ground pepper, and more Tony's to taste
• Remove from heat, garnish with parsley and serve hot.
Serve with bread for dipping juice. Delicious!