Ingredients: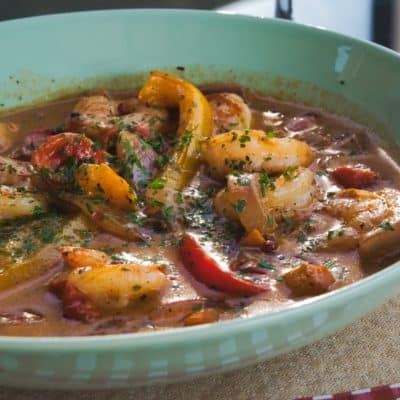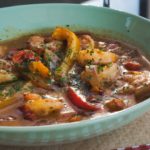 1 lb. small shrimp
2 T. roux
½ bell pepper, chopped
½ onion, chopped
1 garlic clove, diced small
1 stalk celery, diced small
Fresh parsley
Salt & Pepper and/or Cajun Seasoning to taste
Olive oil
Directions:
Put small amount of olive oil in pot. Saute bell pepper, onion, garlic and celery until wilted, but not cooked all the way. Add roux and salt/pepper/seasoning and stir until roux heats up. Add 2 cups hot water, stir, and continue stirring until roux is completely dissolved. Reduce heat and continue to cook, stirring often, until gravy thickens. Add more seasoning if necessary.
Add shrimp and parsley. Cook until shrimp are cooked.
If desired, add 4 boiled eggs, peeled and cut in half, to gravy. Serve over rice.
Small or medium shrimp are best for this recipe.
If you want some to freeze for later, double the recipe, but do not add the eggs until you are ready to serve the stew.