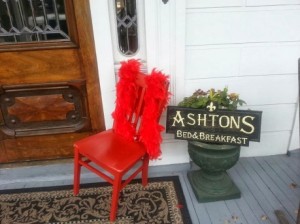 So how does wooden chair become a celebrity? In the case of the Red Chair, it all started in winter 2012 with a single image.
Woods Hole Inn innkeeper Beth Colt posted a picture on Facebook of her simple red chair perched on the ice behind her house and watched her page light up with likes. The picture was then shared on the Facebook page of Julie Ann Cromer, a photographer from Santa Barbara, California, who was inspired by the image to visit the Woods Hole Inn and took a second photo of the chair on a local beach. This inspired Colt to share the chair with other innkeepers by sending it on a journey through towns and villages throughout Cape Cod and then throughout the six New England states.
As part of a consciousness-raising experiment among innkeepers, the Red Chair is currently being welcomed at inns and B&B's throughout America. And from February 2 to February 10, the chair is making its way to Louisiana.
While the Red Chair is in The Pelican State, she (yes, the chair is a she!) will be hosted by several inns across the state, including Ashton's Bed and Breakfast and Avenue Inn Bed and Breakfast in New Orleans, The Stockade Bed and Breakfast in Baton Rouge and The Caldwell House in Abbeville.
Innkeepers Patrick and Karma Ashton, Joe and Bebe Rabhan, Janice DeLerno and Carolyn Sagrera have eagerly been planning for Ms. Chair's arrival, and are planning on showing her the time of her life. While in New Orleans, the Red Chair will visit Mardi Gras World, Rock 'n' Bowl, Café du Monde, and Jackson Square. Afterward, she will head to Baton Rouge, where she will visit Mike the Tiger at LSU and tour other member properties of the Louisiana Bed and Breakfast Association to get a taste of what Louisiana travel is all about.
"We're really looking forward to having the Red Chair come to our state because we want to show her exactly how we pass a good time here in Louisiana," said Janice DeLerno, Innkeeper at The Stockade Bed and Breakfast. "We have big plans for Big Red — that's what I'm calling her!"
The Red Chair's travels have been well documented on her website and Twitter account, where the Red Chair can be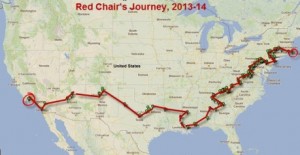 seen everywhere from beaches to bandstands. And more photos and stories from the Red Chair's ongoing journey across nearly twenty states will be added to the website as they are captured. To learn more about the Red Chair's Louisiana adventures, be sure to visit www.RedChairTravels.com or check out the Louisiana Bed and Breakfast Association's site, http://www.louisianabandb.com.