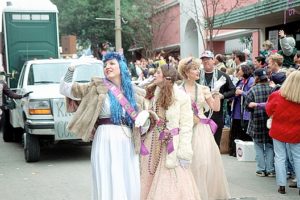 A parade like no other is a great way to describe the Spanish Town Mardi Gras Parade which takes place in Downtown Baton Rouge each year on the Saturday before Mardi Gras. This year, that date is February 22nd, and the parade begins at 12 noon and lasts until around 4:00 pm. Parade-goers dress in costume, mostly decorated with Pink Flamingos.
There is no better way to understand the history of this parade from the beginning up to today than by reading Dr. Joceyln Hazelwood Donlon's blog* which is on the Spanish Town Mardi Gras website. Dr. Donlon is a folklorist in Baton Rouge and is a resident of Spanish Town and a participant in the day's festivities. Her blog is paraphrased below, but it is an interesting read and it will give you a new appreciation for the Spanish Town Mardi Gras Krewe and parade.
"It's a Very Pink Day in my Neighborhood" says Dr. Donlon as she writes about the Pink Flamingos in her historic neighborhood of Spanish Town in Downtown Baton Rouge, which was founded in 1805, two years after the Louisiana Purchase. Baton Rouge was not part of the Louisiana Purchase, purchased by the American Government. It was included in the parishes known as the "Florida Parishes" known as part of West Florida owned by Spain. Its settlers, people from the Canary Islands located off the coast of Spain, desired to keep their Spanish heritage, language and community. Today the sense of community in the neighborhood is more a sense of difference. Pink Flamingos have been adopted as the neighborhood "mascot". Though some people feel that pink flamingos show poor taste, the citizens of this area feel that "Bad taste is better than no taste at all." Today many of the yards display pink flamingos of some type year around. People from all walks of life live in Spanish Town and college students rent apartments there. All people are welcome, even unusual ones.
It is along Spanish Town Road where the Spanish Town Mardi Gras Parade takes place. The first parade, which was extremely small, consisted of people who walked down the street rather than rode in vehicles. There were so few people along the parade route that the spectators would catch a few beads and run to the next corner and throw the beads back to the marchers, so that the parade could continue. Today the parade has grown to be large and one of the most popular in Baton Rouge. It certainly bears a unique concept.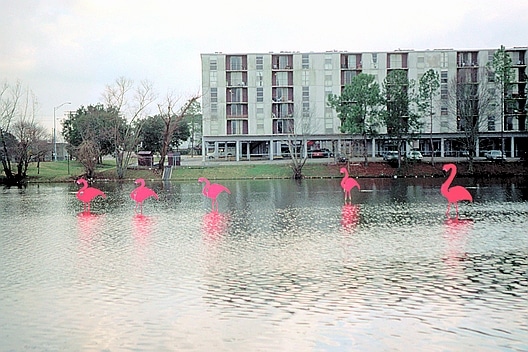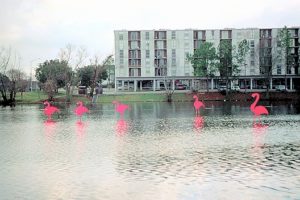 Like all Mardi Gras krewes, this parade has a king and a queen. In 1996, the king was a dog. The Pink Flamingo became the symbol of the Krewe. It's apparent when Mardi Gras time is here because Pink Flamingos show up in the LSU lakes, though people make it a game to steal them.
The parade is not intended to be "family-friendly" and can be a bit indecent. The parade has a theme each year which is intended to be "tacky". Awards are given for various categories and the bribing of judges is not only permitted, it is encouraged.
Donations of $25 are required to get into the Mardi Gras Ball and all donations are given to the Food Bank. Attendees buy tickets in advance, dress in creative costume and even decorate their tables. What fun!
This year, the parade route has been lengthened to help spread out the crowds for more safety and fun.
Please consider staying with us at The Stockade Bed and Breakfast this Mardi Gras season. Book now!
*Used with permission from Dr. Joceyln Hazelwood Donlon