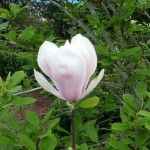 South Louisiana, like much of the United States, experienced more than its share of unusually cold weather this winter.  Phrases like "polar vortex" were being used by weather forecasters – a term people in the south are definitely not familiar with.  All we know is that it was COLD – really COLD.  Snow, sleet and frozen fountains were a little too common in the South this past winter.
South Louisiana is not exactly a tropical area, but we do have somewhat fragile plants that grow here which don't tolerate very cold or frozen temperatures.  Try as we might, it was difficult for us to cover and protect many of our plants, and now that Spring is officially here, we are all taking stock of what's left and replacing plants that didn't make it.
At The Stockade, we are happy to say that our plants are finally coming to life, albeit a little late.  And we couldn't be happier!  Take a walk with us around The Stockade gardens and see what plants and flowers are springing to life!