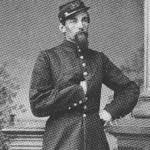 Did you know that The Stockade Bed & Breakfast got its name from the Civil War Highland Stockade that was once located on its grounds? The Highland Stockade was a strongpoint built by Union troops to protect the southern entrance into Baton Rouge. In fact, archaeological investigations have unearthed four clusters of artifacts on our property, including four Civil War-era bullets, a brick feature, and several personal items.
According to an account written by Guy C. Pierce, Lt. Major 4th Wisconsin Cavalry, Captain Pierce and his Company went with Major Craigne on November 7th, 1864 and occupied the Highland Stockade, which had been built by Major Craigne just the year before. Their job consisted of guarding the river and preventing the rebels from transporting salt and beef from western LA and Texas across the river.
The Highland Stockade remains an important historic site and is listed on the National Register of Historical Places. It's a perfect example of the small camps and check-points the Union constructed to guard major roads leading into cities. The Stockade's rich historical significance makes it an ideal spot for history lovers to visit — so if you or someone you know is a Civil War buff, why not book a room today?
SOURCES:
http://www.crt.state.la.us/hp/nationalregister/nhl/document2.asp?name=17072001.pdf&title=Highland+Stockade
Image courtesy of http://www.hughesfamilies.com/fourth/index.cfm?FuseAction=SoldierDetail&RosterID=1680