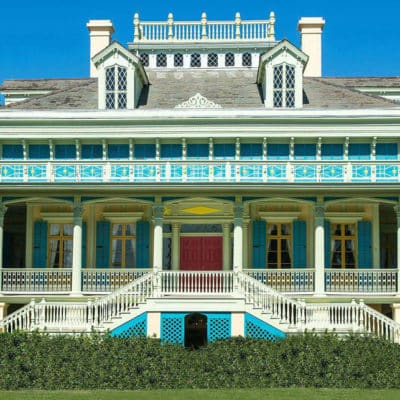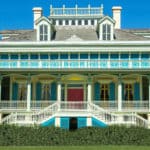 On the east bank of the Mississippi River in Garyville, La. sits one of the most magnificent and architecturally distinctive plantations in North America, the San Francisco Plantation. This colorful antebellum galleried Creole style house is nestled under centuries old live oaks. Its vibrant exterior continues inside, and it contains one of the finest antique collections in the country. It is a National Historic Landmark located on approximately 8 acres, midway between New Orleans and Baton Rouge, and is open daily for plantation tours.
In the year 1827, just as New Orleans was celebrating its first Mardi Gras, Elisée Rillieux, a free man of color began buying tracts of land and slaves for the purpose of establishing a sugar plantation in St. John the Baptist Parish. He never intended to be a planter himself and only three years later he sold the plantation to Edmond Bozonier Marmillion and his partner Eugène Lartigue for only $100,000 dollars, which netted him an estimated $50,000 profit. The house itself was constructed between 1849-50. The plantation went on to be bought and sold by numerous individuals until it was finally purchased by Marathon Oil. The San Francisco Plantation Foundation was created and the home underwent a massive restoration as it existed in the golden years just before the War Between the States. It then became listed on the National Register of Historic Places.
Many legends exist regarding the name of the plantation home. One legend holds the first owner of the home, Edmond Marmillion used the French phrase "son saint-frusquin" (in English, "the shirt off his back"), which became mistranslated into "San Francisco". Another legend holds that the name celebrated the port of entry to northern California, then undergoing the gold rush of 1849. Another legend states that the name was changed from "Sans St. Frusquin" to "San Francisco" when a later owner purchased it.
Touring San Francisco Plantation gives visitors a glimpse into what antebellum life on the plantation was like while recounting stories of the plantation's enslave population. Guests will admire the craftsmanship and honor the skilled artisans and workers who constructed this beautiful historic home.
Today the plantation is also a popular destination for weddings, corporate events and photography.
San Francisco Plantation is located less than an hour's drive from The Stockade Bed and Breakfast, so be sure to put it on your itinerary when you visit our B&B.
(Photo courtesy of http://www.sanfranciscoplantation.org)