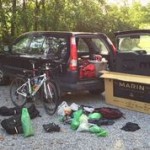 If a trip from Louisiana to Alabama seems long to you, imagine taking it on a bike. Not a motorcycle – a bike! The Stockade was pleased to host a father-daughter bicyclist team who did just that. Hannah and Frank rode 203 miles over 4 days in brutally hot, humid weather – high 80's to mid-90's each day. Their route was from New Roads, Louisiana to Gulf Shores, Alabama. We were excited the family chose to stay with us the night before their adventure began. Once the adventure was over we contacted Frank to get an idea of what their experience was like, and he told us about it: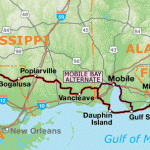 "This trip was a spur-of-the-moment idea. Hannah was starting a job in Florida and we decided to grab this adventure before her job began. It was a wonderful trip despite the weather. The Adventure Cycling Association route was excellent in terms of keeping us off heavily trafficked main roads (mostly). In planning, we didn't think too much about the weather; we just figured it would be another natural obstacle like wind, hills, and rain — part of the challenge.
I flew into New Orleans to meet my wife and daughter who came to Louisiana by car. We stayed at The Stockade before we hit the road. It was definitely a good idea to start our trip out of a very nice B&B. It was to be the last taste of luxury for a while – clean sheets, air-conditioning, and a good breakfast. Janice was very nice to accept delivery of some gear before our arrival and let us get organized and assemble bikes in The Stockade parking lot.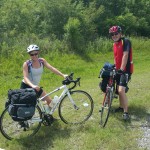 Here we are on Day One, all packed up and ready to go. Following the ACA Southern Tier map, we picked up the trail in New Roads, Louisiana, not too far away from Baton Rouge. Notice the crisp, non-sweaty bike clothes and broad smiles. That would soon change. We got a late start on the first day because we had to replace a broken rear rack.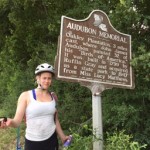 Here's a photo of Hannah at the Audubon Memorial at Oakley Plantation in St. Francisville, Louisiana. From the look on her face in this photo, it seems she was thinking, "What are you not understanding about 'I'm going to stop at every historical marker between here and Florida'?"
Day One took us over the John James Audubon Bridge over the Mighty Mississippi just outside New Roads. This bridge didn't exist until a few years ago. Bikers along the Southern Tier route would have to take a ferry.
We planned to get to Easleyville, Louisiana to the Hyde Park Campground which was 68.6 miles away. It wasn't quite as hot that day but because of the late start, we were losing daylight. At about mile 58 outside Chipola, we stopped to rest. A very nice cattle farmer pulled over in his pickup truck and asked us if we wanted to ride. We were pretty well spent by that point and still had another 10 miles to go, so we gratefully accepted. We loaded our bikes into his pickup and away we went. We got to Hyde Park and I took the best shower I've ever had in my life. We climbed into our tent at about 9:00 pm and the weather was still brutally hot. It did not cool down until about 11:00 pm. After that experience, we spent the other nights in motels. Yep! We're wimps!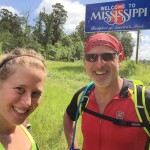 With another two days of riding, the route took us to Poplarville, Mississippi. Here we are on Day 3 crossing into Mississippi. By this day, we had hit our stride and were riding strong.
We were short on time and wanted to get to the Gulf, so my wife drove us from Poplarville to Grand Bay, Alabama. We wanted our last day to take us around Mobile Bay and end at the beach. It was really spectacular. The favorable heat and wind allowed us to go from Grand Bay to the Alabama Port in about an hour.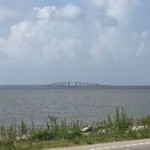 The ride to Dauphin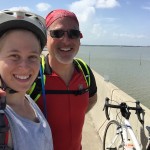 Island over a 10-mile bridge was breathtaking.
We took the ferry from Ft. Gaines to Ft. Morgan, Alabama, which gave us a nice rest and a chance to really see the Bay.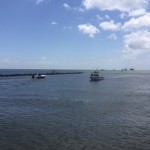 Here is a shot of Mobile Bay seen from the Ferry from Ft. Gaines to Ft. Morgan.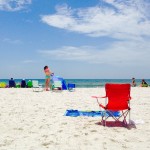 Then we rode to the beach at Gulf Shores where my wife was waiting. Diving into that warm Gulf water was the nicest feeling you can imagine and a great way to end the trip! We spent the next day on the beach instead of riding. Like I said – wimps!
This biking adventure gave us a nice chance to travel through the small town South. You never see the country in a car the way you do on a bike. We found that the people in Louisiana were super-friendly. They were very interested and helpful. We had never really traveled in the South before so we didn't know what to expect, but the people really couldn't have been nicer.
A good thing about following the ACA Southern Tier route is that people in those towns see a steady trickle of coast-to-coast cyclers. These are the hard-core riders. I was doing the wash at a laundromat in Franklinton, Louisiana, and the lady told me about one guy who's in his 60's who rides from California to Florida every year. Hard core. So for most folks, seeing people on bikes loaded with gear riding through their streets was not too weird.
I rode a 20-year-old Trek 2000. Hannah was riding a Specialized Dolce. After this experience, I feel fairly confident that if I have 60 – 70 days, I can do the full San Diego, California to St. Augustine, Florida ride. It's definitely on my bucket list. But I can promise you, it will be somewhere between late fall to early spring. No more summer rides through the South!"
To get more information on bike riding, visit Adventure Cycling Association. They provide maps for rural and low-traffic bicycling routes through some of the most scenic areas of the country, videos, instructions on reading the maps, forums if you want to ask questions, and so much more. http://www.adventurecycling.org/routes-and-maps/adventure-cycling-route-network/
The staff at The Stockade was happy that they had a chance to not only host the family but learn more about cycling. We hope that other cyclists stay with us any time of year when they travel through the South. As Frank said, it's a nice taste of luxury.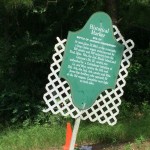 Historical Marker, site of Battle of Jackson Crossroads, Jackson, Louisiana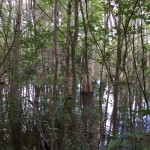 Bayou and swamp in Mississippi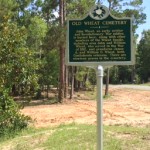 Old Wheat Cemetery in Pearl River County, Mississippi where John Wheat, an early settler and Revolutionary War solder, is buried, along with 19 graves of members of the Wheat family.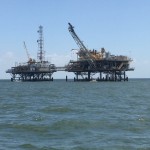 Oil rigs in Mobile Bay.