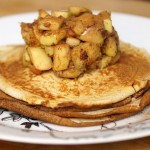 • 1 medium green apple
• 2 c. Pancake Mix (we use Krusteaz Buttermilk Pancake Mix)
• 1 1/4 c. Milk
• About 1 tbsp. (or to taste) cinnamon
Preheat griddle to about 350 or medium heat.
Use the broader part of a cheese grater to grate the apple into a bowl or plate. Mix the pancake mix and the milk in a bowl well. Add the cinnamon and the apple and mix well. Pour the batter onto greased preheated griddle in 3 inch circles. Cook on medium for best results.
Our very own groundskeeper Steve created this recipe. Instead of doing the usual Blueberry or Banana Pancakes, Steve took a stab and created this delicious breakfast dish.