This is my own adaptation of this classic recipe.
½ c. sugar
½ c. brown sugar
½ c. butter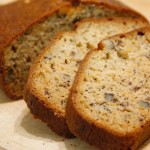 1 tsp. vanilla
2 eggs
½ c. whole-wheat flour
1½ c. regular flour
1 tsp. baking powder
1 level tsp. baking soda (in a few drops of water)
1 pinch salt
1 c. pecans, chopped
3 to 4 very ripe bananas
Preheat Oven to 325°
Combine cream sugar, brown sugar, butter, and vanilla.
Add eggs to mixture.
Mash bananas.
Add bananas and salt to the mixture.
Then add baking powder to flour and pour gradually into mix.
If you use nuts, add them next.
And lastly, baking soda.
Mix well and divide into 2 loaves.
Bake in greased loaf pans at 325° for 40 to 50 minutes; test with a straw.