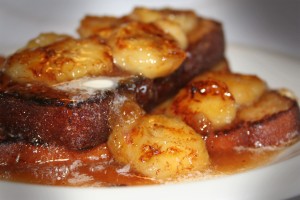 I started making this recipe when the Ice Cream Banana plant which one of my guests from Florida brought me produced a bumper crop.  Everybody loves it!
1 loaf of French Bread sliced
2 eggs, beaten
2 cups half and half
1 oz. Praline Liquor
Butter
Pecans
Brown sugar
Sliced banana
Blueberries (optional)
Powdered sugar (optional)
Whipped cream (optional)
Mix together the beaten eggs, half and half, and Praline liquor.
Soak bread in mixture and sauté in butter on both sides until brown.
In separate sauce pan, sauté in butter,  pecans, Praline liquor, and brown sugar until it makes a syrup. Add banana slices and cook till soft.
Pour syrup over French toast and garnish with blueberries, powdered sugar and whipped cream.