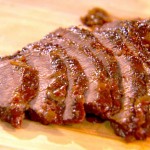 The secret to tender brisket is slow cooking in the oven with a marinade of your choice.  Even a bottle of beer can make a brisket delicious and tender. After cooking, you may put it on the pit to get the smoked char on the outside or just serve straight from the oven.  You can put it in the fridge overnight and slice it the next day and reheat in the oven.  But, remember, the brisket is a tricky cut of meat and you must slice across the grain if you want slices.  If not, you can pull the meat and serve it as "pulled brisket."  Either way, it is delicious.
JD's Brisket Marinade
Depending upon how many pounds of meat you are cooking, you may need to double this recipe.  But for 1 brisket that is approximately 8 lbs, this should be enough.
Mix together:
1 cup red wine
1 1/2 cup water
1/4 cup honey
1/4 cup olive oil
1 T soy sauce
2 medium onions cut up
8 cloves garlic chopped
Buy brisket pre-trimmed or trim before cooking to remove excess fat.  Season with Tony Chachere's seasoning, garlic powder, basil, thyme and oregano.  Place in pan deep enough to accommodate brisket with liquid poured over it.  Cover pan tightly with aluminum foil and place in 325 degree oven for 3 to 4 hours.  Cool.
You may make gravy from the liquid that it is cooked in.  I use the fat skimmed from the top and pre-browned flour to make the roux.  Pour in the liquid and cook till thick.  You can put in some beef bouillon for extra flavor.
This is a great dish for New Year's Eve or the day before a party because you can cook ahead and serve in a chaffer.  Enjoy the party!!!