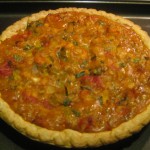 Crawfish pie is a type of baked savory pie common in the Cajun and Creole cuisine of Louisiana. It is similar in appearance to a pot pie and contains crawfish. 
Ingredients:
4 tablespoons butter
3 tablespoons flour
1 ½ cups onion, small diced
¼ cup bell peppers, small diced
¼ cup celery, minced
1 ½ teaspoons salt
½ teaspoon black pepper
1 bay leaf
¼ teaspoon cayenne pepper
¾ cup tomatoes, peeled, seeded, and diced
1/4 cup heavy cream
1 pound peeled crawfish tails
2 dashes Worcestershire sauce
1 9-inc prepared pie shell
Directions:
In a large skillet, melt the butter over medium-high heat. Add the flour to the melted butter, stirring until it is nicely mixed. Cook for about 3-4 minutes. Add the onions, bell peppers, celery, salt, black pepper, bay leaf, and cayenne pepper. Stir and cook until golden brown. Add the tomatoes, cream and Worchestershire sauce and cook for 15 minutes. Continue stirring. Add the crawfish and allow them to simmer for two minutes before removing the pan from the heat. Refrigerate the mixture until cooled.
Preheat oven to 375 degrees. Pour the chilled crawfish mixture into the prepared 9-inch pie shell. Bake for 40-45 minutes or until the pie shell is golden brown. Remove from the oven and slice. Serve warm.
"From My Kitchen to Yours, The 'Bleep' My Family Eats" is written with a love of food and the joy it brings to family and friends. Happy Eating!
Gretchen Frith
[Used with permission by Author, Gretchen Frith]