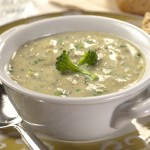 ¾ c. chopped onion
1 carrot, sliced thin
2 tsp. mustard seeds
2 Tbsp. unsalted butter
¾ pound broccoli, chopped coarse (about 3½ cups)
2 c. chicken broth
1 c. water
1½ tsp. fresh lemon juice, or to taste
¼ c. sour cream
In a heavy saucepan cook the onion, carrot, mustard seeds, and salt and pepper to taste in the butter over moderate heat, stirring, until the onion is soft. Add the broccoli, the broth, and the water and simmer the mixture, covered, for 15 to 20 minutes, or until the broccoli is very tender. In a blender, purée the soup in batches until it is smooth, transferring it as it is puréed to another heavy saucepan. Whisk in the lemon juice and salt and pepper to taste, heat the soup over moderately low heat, and whisk in the sour cream (do not let the soup boil).
This is a light soup with wonderful flavor.