DeeDee's Christmas Cookies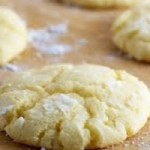 My great Aunt Concetta "DeeDee" DeLerno was a great cook, or so I am told. Unfortunately, I never met Aunt DeeDee. But, even though I know I am my mother's daughter, every time I look in the mirror (I am the spitting image of her), I also know that I am related to my grandfather's sister, Concetta DeLerno. I make up my own recipes, I like the science of cooking as much as the ritual, and I KNOW food. I have Mediterranean blood, love red wine, garlic and olive oil. I am Italian even though I don't look it. I wish I had gotten to know Aunt DeeDee and would have loved to cook with her! This simple cookie recipe reminds me of my roots in Ustica and Brindisi, Italy. I use my Meyer Lemons off the bush in the front yard. Thanks for the recipe Aunt DeeDee!
Ingredients:
½ lb. butter
4 cups flour
1 2/3 cups sugar
1 whole lemon (grated and juice)
2 eggs
1 teaspoon vanilla
1 teaspoon baking soda
2 teaspoons cream of tarter
Directions:
Sift flour once. Sift flour again with cream of tartar and baking soda.
Cream butter and sugar together. Add eggs, vanilla and lemon. Fold in flour mixture.
Roll out with rolling pin and use cookie cutter.
Bake at 350 for about 10 minutes.