Granola is incredibly easy to make and provides a healthy breakfast or snack. Ingredients can be tailored to your taste.
Ingredients:
3 c. Oatmeal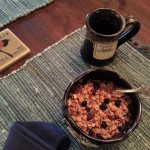 1/4 c. Coconut oil
1/4 c. Honey
1/4 c. Milled flaxseed
1/2 c. Chopped pecans
1/2 c. Sunflower seeds
1/2 c. Dried cranberries
1/2 c. Dried blueberries
Directions:
Combine oats and pecans.
Boil the coconut oil and honey in the microwave for 1 – 2 minutes. Pour over oat and pecan mixture.
Add milled flaxseed, then combine all ingredients until coated.
Put on baking sheet and bake in 350 degree oven for 10 minutes, then stir.
Put back in oven and turn off. Take out of oven when it is cooled off. You can leave it overnight.
Add sunflower seeds, dried fruit and any other ingredients that you want such as almonds, coconut, raisins, cinnamon, brown sugar, salt, etc.
Serve with soy milk or almond milk for a delicious, healthy breakfast or snack. Can also be eaten dry.
Enjoy!