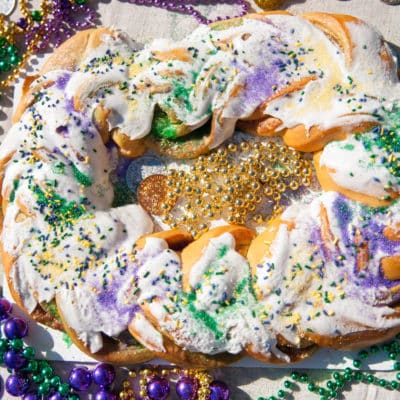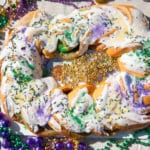 Mardi Gras is already in full swing in South Louisiana. Mardi Gras balls have begun and preparations for Mardi Gras parades and parties are being made. Synonymous with Mardi Gras is the King Cake. Though there are many companies that will be happy to ship a King Cake to you, perhaps you'd like to try to make one yourself. Here are a few recipes:
From Epicurious.com
https://www.epicurious.com/recipes/food/views/king-cake-356833
From AllRecipes.com
http://allrecipes.com/recipe/8144/mardi-gras-king-cake/
From MyRecipes.com
http://www.myrecipes.com/recipe/traditional-king-cake
Don't forget to purchase a plastic baby to put in the cake! The baby symbolizes luck and prosperity to the person who gets the baby in their slice of cake. It's also the best way to pass on the tradition of the person getting the baby to supply the next King Cake.
Added in 2021: Here is an extensive look at the history of the king cake: from its early roots in Rome, to its adoption for the Epiphany and Carnival, to its popularity in France, Spain, and the Gulf Coast of the United States, by Gerard Paul.